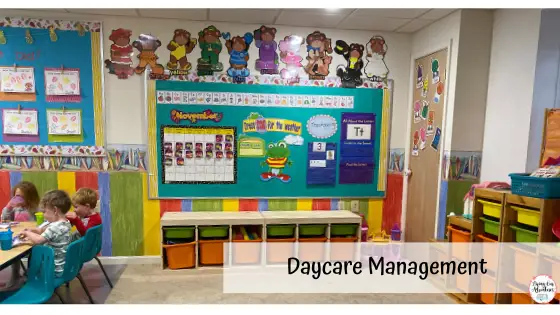 Running a daycare is not always easy but with a little thought and a few tools, you can make your days with the kiddos enjoyable. Coming from the classroom I knew that I needed to have a routine when it came to our day to day activities in the daycare. I also knew that I would need a few systems/things that would help things run smoother. I have divided this list into two categories; one list is things that help me as the teacher and the second is a list of things to tame the chaos.
Disclaimer: This contains affiliate links and any purchases made through such links will result in a small commission for me (at no extra cost for you). I only recommend tools and resources I use and love!
Things for the Teacher
Ring Door Bell
Our daycare is located in the basement and often I can't hear what is going on outside or even upstairs in the house. So before I opened I wanted a way to see who was at the front door before they came in. The Ring Door Bell was perfect for this. The kids even love it, when the motion chime goes off they all go running to the stairs and start asking who is here. You end up getting your own personal welcoming committee when you walk in.
Brightwheel
Documenting each child's day is a big part of running a successful daycare. I knew I wanted something digital to make it easy on me and parents. Brightwheel is awesome for this. I have the app on my phone and each parent has the app on theirs.
Each parent gets a code that they use to check their son/daughter in and out each day. From the app, I can log all of the different activities. As I add activity parents get a notification about what their child is doing (eating, bathroom, sleeping, etc.) I can also share pictures and videos through the app.
But one of my favorite features is the bill pay. I set up invoices for my parents that are sent automatically and they choose how they want to pay. Most do direct deposit through the app. I never miss a payment!! It will also send a tax statement to each parent at the end of the year.
Documenting the Spending
No matter what business you run you always have to spend money to make money. Brightwheel does a great job of keeping track of the money that is coming in but doesn't have a way to track the spending, so when I first opened I used Quickbook. But after doing taxes for the first time we found that it had way too many features that we would never use and it wasn't worth the money. So we decided to use our banking app to label and categories purchases and then keep every receipt in labeled envelopes. So far this system is really working for us.
Taming the Chaos
A Schedule
Kids thrive on schedules no matter what age. Creating one for the daycare was a lot of trial and error but I think we have gotten into a groove. Even with a schedule, some days go smoother than others. Somedays we get to everything and some just play days. Our kids are young and I believe that they learn the most through play, therefore I am flexible if they need a "rest" day I give it to them. The biggest thing is to just be flexible!
Ikea Toy shelves
I like things organized and knew that was going to be a priority when running the daycare. The Ikea Trofast Storage System was perfect. I had these in my classroom as well so I didn't buy many more. I love them for the bin aspect of things. Each toy has its own bin and put away in an organized fashion. I don't label the bins because more often than not they dump them out and it doesn't really matter what goes back in what bin because they are all orange. The kids, on the other hand, have their own organization and put the same toy bin back in the same spot every time.
Foldable mats
I have plenty of storage but didn't want to storage to be taken up by cots, so I opted to do foldable mats that fit under their cubbies. My mom and I made big pillowcases for them out of sheets so the kids wouldn't have to sleep on the plastic.
It's funny though because more often than not a kiddo will not even sleep on the mat.
Running a daycare and being with kids all day every day is not always fun but when you look at the big picture I wouldn't change anything to be home with my kiddos every day and have the flexibility that I do.
---
For more information about our In-Home Daycare and Daycare Management please visit our Facebook Page and our In-Home Daycare Page.