Dinosaur Week in Tot School is loaded with fun, hands-on Dinosaur Themed activities to help your kiddos build math and literacy concepts. Literacy skills covered are letter identification, handwriting. Math skills cover are one to one correspondence, counting, number identification, writing numbers, sorting, and 2D shapes. These activities are designed for toddlers & preschoolers. I have also included a sheet of Dinosaur themed activities for older infants.
Books
Activities
Dino Letter Mats
Have your kiddos build the letters with small pebbles or trace the letters using dry erase markers.
Dino Egg Sort
Using Dinosaur counters or paper dinosaurs have your kiddos match them to the colored eggs (sorting).
Dinosaur Action Egg Hunt
Go on an egg hunt. When you kiddo finds an egg have them open it and do the action inside. A great follow up activity to Stomp, Dinosaur Stomp! by Margaret Mayo.
Paper Dinosaur Craft
Sensory
Fizz Dinosaur Eggs
How to Make– Add 3 heaping tablespoons of baking soda and 1 heaping teaspoon of cornstarch to a Ziploc bag. Add one tablespoon of water and a couple of drops of food coloring to the bag. Close the bag. On a covered surface, gently knead the bag to mix the ingredients. Once the ingredients have created a paste-like liquid and all the food coloring is mixed in well, stop kneading. Repeat the steps above for a variety of colors. Using gloves ( it's very important you use gloves to avoid staining your hands), remove the mixture from the bags onto a cookie sheet. Pat together one half of an egg shape, add a mini plastic dinosaur and pat more of the baking soda mixture on top of the dinosaur. Gently shape the baking soda mixture into an egg shape. I used plastic Easter eggs to help me get the shape I was looking for. Add the shaped eggs into a small container and put in your freezer. Freeze for about 2-3 hours, until hard.
To Play– Place the eggs into a plastic activity tray. Give your children a bowl with vinegar in it and plastic medicine droppers. Let them squeeze vinegar onto the dinosaur eggs and watch the chemical reaction! The eggs will fizz and bubble and reveal the mini plastic dinosaurs inside.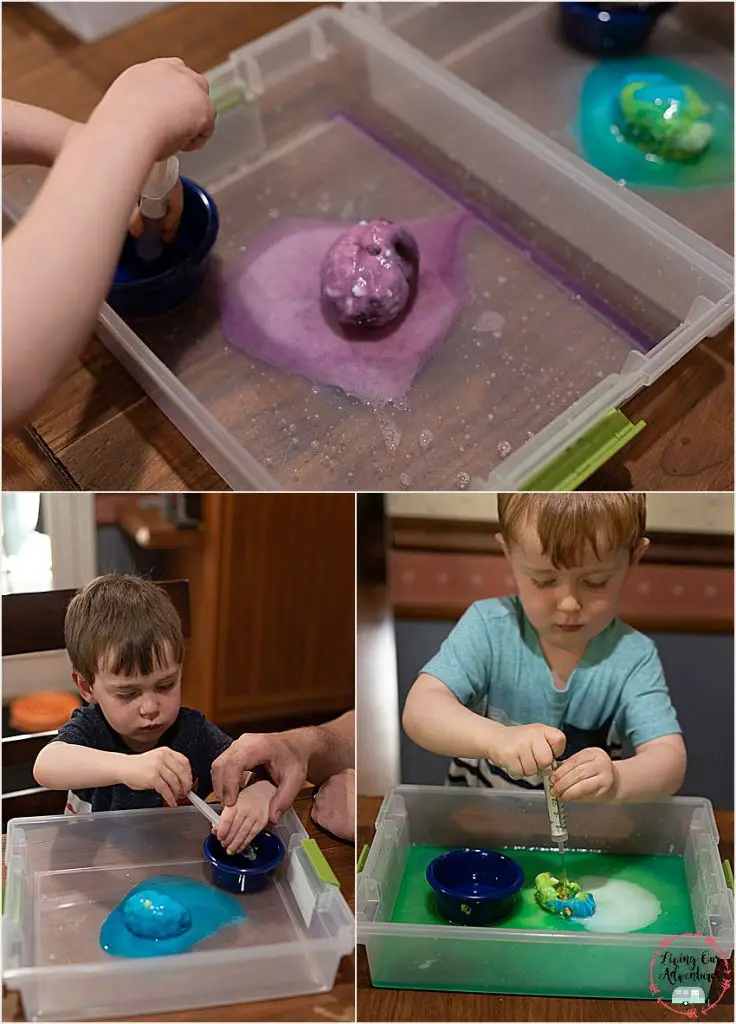 Dinosaur Dig
In a sensory bin put kinetic sand, plastic dinosaurs, plastic eggs, small shovels and paintbrushes. Have your kiddos "dig" for dinosaurs using the shovels and then brush them off with the paintbrushes.
Worksheets
---
You can find all of these activities and more in my Dinosaur Week on TpT.