In September we lost my mom to lymphoma. It was not something we were prepared for and not something we expected. In my shock and disbelief, I desperately searched for things to remember her by. My mom was my best friend, we did just about everything together. The hardest part was not being able to pick up my phone and tell her about something funny the kids did or a problem that I was having.
Disclaimer: This contains affiliate links and any purchases made through such links will result in a small commission for me (at no extra cost for you). I only recommend tools and resources I use and love!
After some rough nights and reflection, I decided that I would start a journal of all of the things that I didn't get to tell her in person. At first, I would write in it every day, sometimes several times a day. As the days go on I find my self writing every couple of days or when I am really struggling. Just being able to get my thoughts and feelings down on paper has made a huge difference in helping me grieve and heal.
Another thing that has helped is a necklace that my dad bought for my sister and me. Now the idea wasn't his nor was it mine, it came from a friend who also lost her mom earlier this year. Her cousin ordered her a necklace with a "charm" in her mother's handwriting. My dad loved this and asked that I find something with my mom's handwriting. I found a card, mom had given me for mother's day that was signed "Love Mom", we sent it to Kate at CaitlynMinimalist and she turned it into a necklace.
The boys are a little young to fully understand what happened but Henleigh was MeMe's little girl and continues to miss her. To help her understand that MeMe is now in heaven and what heaven is we read her God Gave Us Heaven by Lisa T. Bergren. She often tells us she is sad and misses MeMe, which breaks our hearts. We also read The Invisible String by Patrice Karst to help her understand that MeMe is always with her.
To help all of them remember I made a Chatbook with pictures of them and MeMe, it is awesome to see each of them look through the book and point to themselves and MeMe.
And it just so happens that Promptly Journals came out with a Remembrance Journal. It has been another awesome way for me to jot down memories of my mom.  It even has a place to write down how she died and what her memorial included.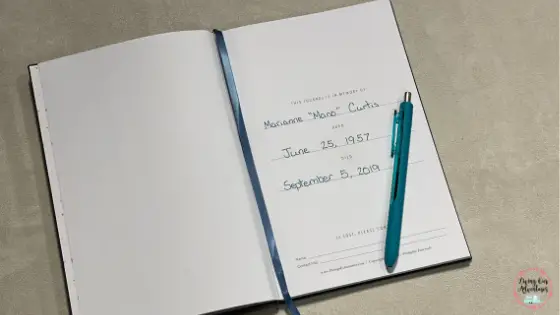 If you haven't check out Promptly Journals GO NOW!!  Jamie and I have one that documents our relationship/marriage and we have one for each of the kids.  They do take a little time each month/year but I know that in the end, I don't want to forget anything about what makes our life an adventure.  I do suggest writing in them with an erasable pen just in case you make a mistake. 
---
If you want to know more about our crazy family and what works for us please subscribe to my Monthly Newsletter.