Reindeer week was so much fun! The kids loved learning the reindeer names and reading about all the fun reindeer have. The kids are getting very excited for Christmas; so reindeer was the perfect theme to keep them engaged last week. Here are some of the Reindeer Activities that we did.
Books-
Letter of the Week-
Songs-
Fine Motor Activities-
Hungry Reindeer Tracing Cards– my kids are loving these tracing cards.  You can find them in my TpT store by clicking on the picture. 
Reindeer Busy Bins– the boys don't get to use these yet but it is one of Henleigh's favorite after naptime activity. 
Arts & Crafts-
Cut and Paste Reindeer– these were a great way to kick off our week and easy for the boys to do (I added the glue, they put them in place).
Reindeer Ornaments- these were super easy.  Beforehand I glued popsicle sticks into a triangle making sure to leave the ends of the sticks hanging off.  Then the kids painted them.  Once dry we wrapped pipe cleaners around the sticks for antlers and glue on a nose and eyes.  So we could hang them on the tree we tied a ribbon to the top.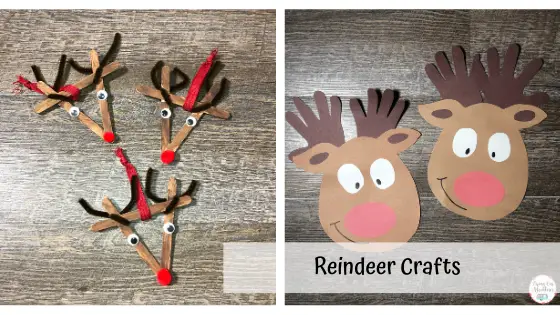 Sensory-
Reindeer Food– I found the note on Pinterest and now I can't seem to find it. There are many different ones out there; you can search Pinterest or Google and you will get a lot. Inside the bag, we put rolled oats and glitter.
---
If like our Reindeer Activities and are looking for other Christmas themed activities check out our Gingerbread Man Week.