Are you looking for an alternative to the traditional Thanksgiving Feast for the classroom, then this is for you. Thanksgiving Rotations are not only fun but your kiddos will also learn about , how , the history of , and . My kindergarteners love these activities and most often say they were the best activity we did all year.
On Thanksgiving Rotation day I divide the class into 4 groups (most often the 4 tables in my classroom). At each table, there is an activity set up with 1-2 parent volunteers to lead the activity. Students start at their own table and complete that activity (15-20 minutes), then they rotate to the next table. They keep rotating until they have visited all the tables.
Native American Talking Stick
For this activity, students learn about the tradition of the Native American Talking Stick by reading a book and making a talking stick of their own. Once done they can practice using their talking stick with their group.
Homemade Butter
For this activity, students will learn how to make butter by watching a video and then making some butter of their own. Make sure that you remind students to take the butter out of their backpack when they get home, it can become smell if left too long.
The History of Popcorn
Popcorn has a very interesting history that not many people know. In this activity, students will learn all about popcorn and compare popcorn popped in a bag and popcorn popped on a cob.
Making Pumpkin Pie
Pumpkin Pie is a Thanksgiving tradition but not many kids know how much work actually goes into making a pumpkin pie. For this activity, students will read a book about making Pumpkin Pie and then make pumpkin pie pudding of their own.
Reflection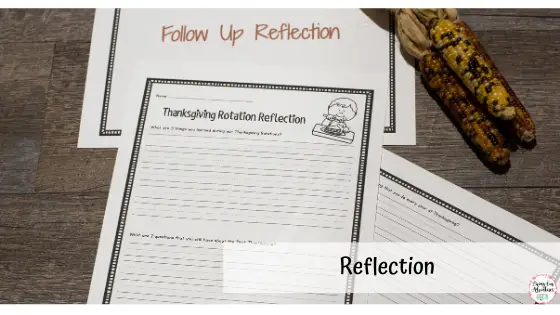 You can find detailed directions for Thanksgiving Rotations in my TpT store.
Are you looking for more Thanksgiving themed activities to do with your kiddos check out My Thanksgiving Book.