Winter Glamping Made Easy
I don't know about you but we always get depressed when the weather gets colder. Typically with colder weather comes less camping, well it used to! Last year we decided to go on just one more trip in late November. Thankfully we planned ahead and made sure to pack a couple of additional items to make our Winter Glamping enjoyable.
Disclosure: Some of the links below are affiliate links, meaning, at no additional cost to you, I will earn a commission if you click through and make a purchase. 
Last year we went to Endless Caverns in the Shenandoah Valley, VA. I believe we went the last weekend in November. For that trip we were still camping in our Coleman Bayside Pop Up. It just so happens that it was the coldest weekend of the month and we ran out of propane. After the remodel I had taken the space heaters out of the camper thinking we wouldn't need them anymore so at two o'clock in the morning when the furnace kept trying to kick on but couldn't Jamie went up to the bathhouse and borrowed the space heater.  We put all the kids in bed with us and as soon as Mechelle texted that they were awake we were in the MC. It was COLD!!Mom and Dad either didn't disconnect the hose from the water spicket or the spicket wasn't wrapped so we didn't have water until late morning on both Saturday and Sunday.
Needless to say we had a great time.  The caverns were fun and we got some much needed family time. This was also the trip where Jamie said that the Pop Up was a lot of work with three small children and this is why he was starting to shy away from camping. At the time we didn't know what this meant for us, hehe!!
Fast forward a year, it is again November and we camped at Shenandoah Valley Campground, LLC in VA, but this time we have a different camper and we were prepared. Also note that our last trip this year was Thanksgiving. You can read more about this trip here.
So what did we do differently to enjoy Winter Glamping? We made sure to pack a few extra things like…
Space heaters
Extra propane tanks (I think we had 2)
Warm blankets
Large easy up, awning with side panels
Outdoor heater
Just these few extra things made a very cold weekend camping enjoyable for everyone, even my mother in law who doesn't camp.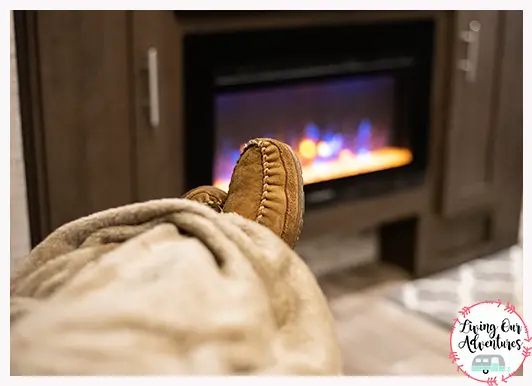 Besides packing some extra supplies we also made sure we disconnect the hose from the spicket each night. The spickets were wrapped so they never froze and because we disconnected our hose we had running water in the morning as soon as someone wanted to venture outside to connect it.
Because the inside of the camper was warmer than the outside we had a lot on condensation on the windows and even some on the walls. To help collect the water we cut some shamwows! Into long strips and put them into the window tracks. Every so often we would switch them out and hang the wet ones in the bathroom to dry. When we got home we put 2 damprid containers in the camper to collect any extra moisture and help prevent mold and mildew.
We love camping and always get depressed when the weather turns really cold, but we have learned that camping doesn't have to end just because the weather is getting colder, you just need to pack a few extra items and plan accordingly. Winter Glamping is becoming something that we love to do.
You May Enjoy These Related Articles
Did you enjoy this article? Want to hear more? Stay in touch! Sign up below to receive weekly tips and inspiration for your homestead.