Our Crazy Decision to Upgrade
If you read When to Upgrade Your Camper you know that we made the switch and sold our Coleman Pop-Up and bought a Travel Trailer. Here is how this crazy idea of Upgrading Your Camper came to life for us.
Mom, Dad, Aunt Nancy, and Uncle Ron were already planning a weekend trip to Island Resort for the first weekend in December, so we tagged along.  Jamie wasn't able to get off of work early on Friday so we left after he got home (around 6pm). Setup wasn't too bad and the camper warmed up fairly quickly.
Before going I bought a couple of things to make the second king-sized bed suitable for the boys.  It took a little extra time but it was well worth it in the end and the boys loved it! Read how we transformed the second king bed into an infant bed in our post; Pop Up Camper Sleeping.
The weather wasn't as cold as Endless Caverns so the heater didn't run all night, which was great and we didn't run out of propane.  We even made it out to the beach. We were chicken and didn't take the suburban, but saw our model on the beach and feel a little more confident for the next time we go.
In Cur-Hocki fashion, our best/craziest ideas come while camping and driving home… this time it started with a comment that Mike made and dad pigged backed on.  While out on the beach Mike suggested we sell the truck (we had an F150) and buy a Jeep to take out on the beach since we were able to get 2 car seats and a booster seat across his back seat. Jamie followed up by saying we needed the truck to haul things. My dad pipped in and said, "you would have my truck."
Before going to bed Jamie and I started talking about what if we did sell the truck, the Chevy could tow a 5th Wheel which was something we had talked about for the future.  I remembered seeing a 5th Wheel on the Facebook yard sale site earlier in the day and pulled it up again for Jamie to see because it wasn't that expensive. Now this one didn't have enough beds but still, the price wasn't bad and there had to be others out there that fit our needs.
I started searching for different models and brands that we knew.  Many had bunkhouses which was a must for our family of 5, plus Ruben. On a whim, I search for travel trailers with bunkhouses and found one that I really liked and the price was great even new.  By this time Jamie was asleep. I shared it with him the next morning and he liked it as well.
We remembered Uncle Ron saying that there were a few brands that he liked better than others but couldn't remember which ones. So I started a Jayco search since that was the brand that they had and I found one that I liked even better!! It had a bunkhouse, U shaped table, and the ease of setting up that we were looking for.  Even better was the fact that is was a 2017 never been used, therefore it was *NEW*.
Jamie and I talked all the way home about the possibility of getting a new camper.  By the time we got home, the idea was a true possibility. We needed to talk to Mom and Dad but we couldn't find any reason why this idea wasn't going to work.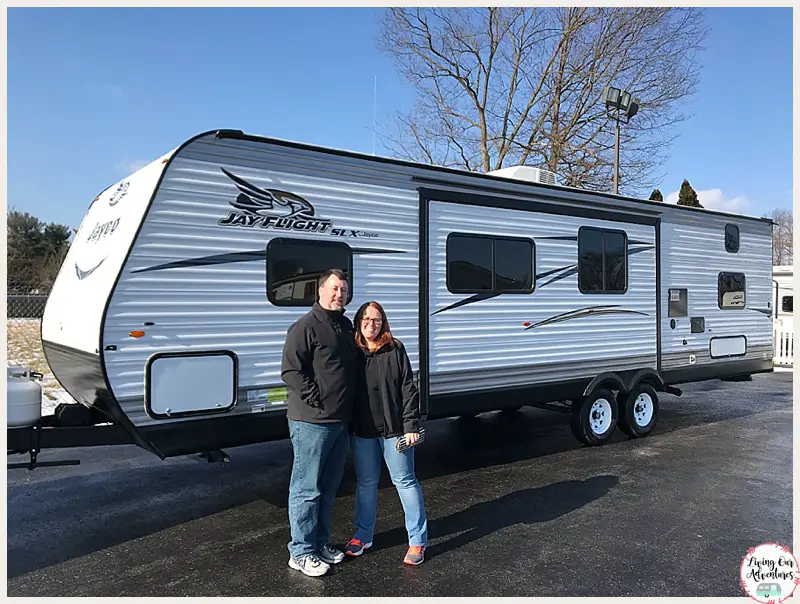 Fast forward a few weeks… we loaded everyone (mom and dad) included into the suburban and took the trip to PA to see the camper, in the snow mind you. We all liked upon first sight and decided to put a deposit on it. We would come up after the first of the year and make the purchase final.
If you are thinking about upgrading your camper but just aren't sure make sure you read When to Upgrade Your Camper.
If you are looking for more Camping Tips & Tricks please subscribe to my Monthly Newsletter and check out our Tips & Tricks page.