How to Prepare for Full Time RV Living
Are you thinking about making the switch to full time RV living? If so, then you probably have a lot of questions about how to prepare for this big lifestyle change. While there's no one-size-fits-all answer, there are some key things that you'll need to do in order to get ready for life on the road. In this blog post, we'll share some tips on how to prepare for full time RV living, from choosing the right RV to stocking up on essential supplies. So if you're ready to hit the open road, read on for everything you need to know!
Disclosure: Some of the links below are affiliate links, meaning, at no additional cost to you, I will earn a commission if you click through and make a purchase. 
Are you ready for full time rv living?
Full time RV living is an exciting and unique way to explore and experience life. From the outdoorsy lifestyle to getting to see different parts of the country, it definitely has its advantages. But it's important to be prepared when you make the transition from a stationary home to a nomadic one.
Being ready for full time living on the road requires a bit of preparation; packing the right items, setting up the correct utility services, ensuring that your RV is in good condition for long trips, planning routes and destinations, and making sure you have enough money saved up for potential medical expenses can all be major factors in making your RV odyssey successful.
If you're ready for the challenge and are willing to take some steps in advance to make it happen, full time RV living can be one of life's most rewarding experiences!
How to choose the best RV
Picking an RV for full-time living can be a daunting task! There are so many choices when it comes to the type, size, and features of an RV, but if you think carefully about what's important to you, you can pick the perfect one.
First of all, consider how much space and how many amenities your family will need. Size should also depend on where and how often you'll be going camping – if off-roading is in your plan, a smaller RV might be better for navigating rough terrain.
Additionally, as full time living requires more frequent upkeep and maintenance than short term camping trips would call for, look for features like easy access engine compartments and heavy-duty construction materials.
Knowing which features are important to you will help narrow down the selection and get you settled into the RV lifestyle!
Learn more about the different types of campers HERE.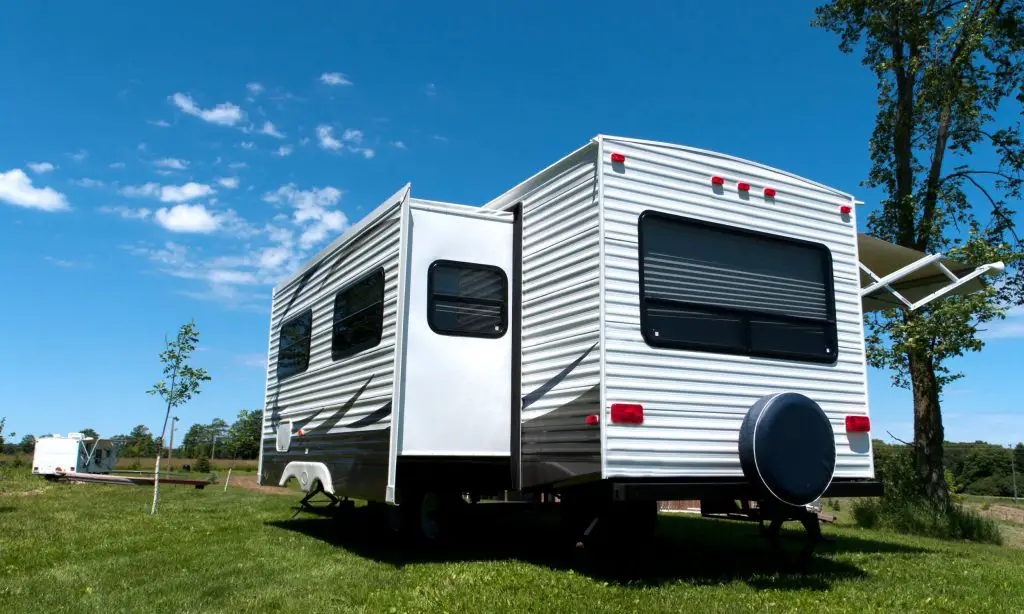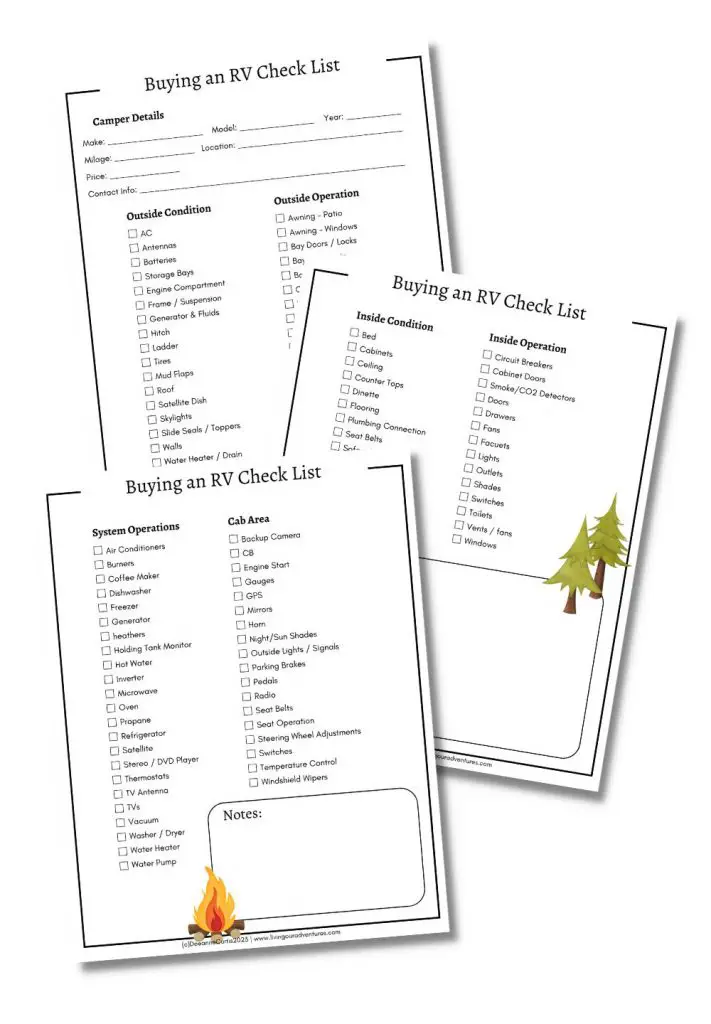 Get your FREE Buying an RV Checklist. Make sure you are buying a quality RV. 
Decide what you need to take with you and what you can leave behind
One of the trickiest parts about moving into an RV full time is narrowing down your possessions. The lifestyle requires a sense of minimalism. The limited space means you can't take everything you own in your house. This process is one of the most challenging parts of adapting to this way of life.
If you're moving into an RV from a house, you'll likely have to get rid of most of your possessions (or put them in storage).
Start your new life by bringing just the bare necessities first. These include everyday living items like clothing, bedding, cookware, toiletries, and other household items you'll need on a day-to-day basis.
But don't forget to pack comfort items as well. Most people have items they just can't get rid of and these items will make your RV feel more like home.
Deciding what to take with you and leave behind during travel is an art form that is well worth finding your own balance for!
Get your vehicle serviced and check for any necessary repairs
When it comes to maintenance for your vehicle, it is important to stay on top of servicing and any necessary repairs. Getting your vehicle serviced regularly is key to keeping your car problem-free and running smoothly.
Taking the extra time to check for any necessary repairs before they become major issues can save you a lot of frustration, money, and wasted time down the road. If you neglect servicing and repairing your vehicle, you run the risk of driving in an unsafe vehicle while also potentially sacrificing any warranty that is attached with it.
Make sure you are taking the necessary steps today to ensure a safe ride tomorrow.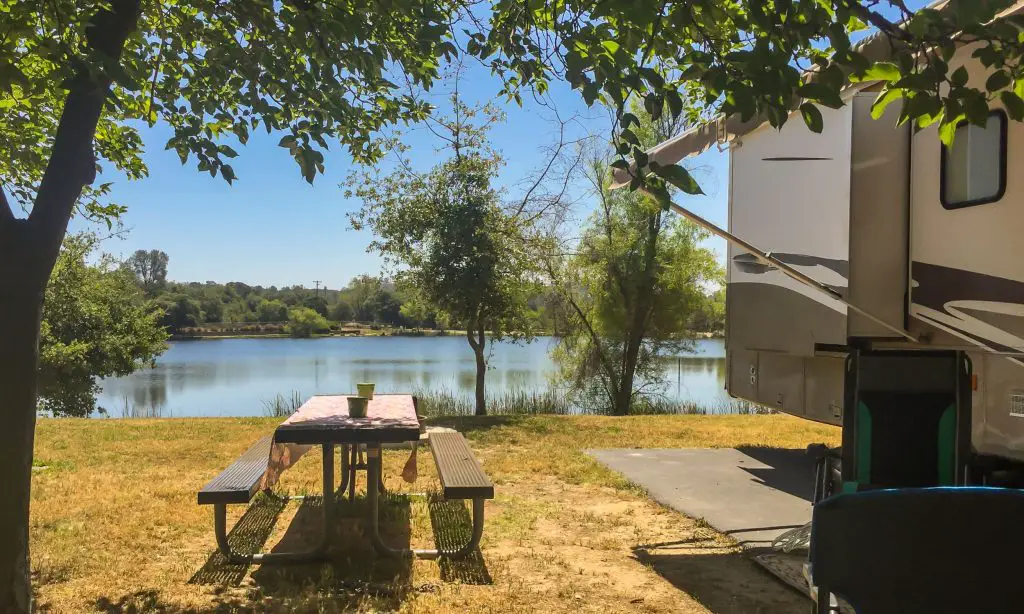 Create a budget and plan for where you'll be staying along the way
Creating a budget and planning where you'll be staying ahead of time while on a trip is essential to its success. Planning your accommodations forces you to get creative when it comes to finding solutions that fit within your allotted budget.
With the right attitude, it's possible to save money on flights, hotels, activity tickets, and more if you plan your trip carefully. Rather than play everything by ear, determine what your needs are in terms of lodging and start researching options with websites like KOA and hipcamp that have a variety of price points available.
Doing so will provide greater peace of mind as you travel knowing that you won't be hit by any nasty or expensive surprises along the way.
One of the best parts about living in an RV is that you can stay almost anywhere!
Although some full-timers prefer to stay in a single location (or migrate from north to south following the weather), others prefer to roam around the country, seeking a new backdrop every few days or weeks.
But where exactly can you park and camp in an RV? You have a few main options to choose from.
An RV park is quite the luxurious experience, offering full hookups such as water, sewer and electric connections in addition to creature comforts like Wi-Fi, cable TV, garbage service and more. However it comes with a hefty price tag that can add up quickly if you're living there all the time – so try to find your balance between getting away from home once in awhile but not breaking the bank!
Established campgrounds are ideal destinations, with amenities like restrooms and showers plus RV hookups (water/electric only). You can find these spots in national parks or state parks -or you may choose to stay at a private campground.
Prices vary depending on the season and services offered, but generally cost between $10-50 each night. 
We love finding private campgrounds through HipCamp. On HipCamp you can find farms, wineries, airports, etc. to camp at. Some have basic amenities and others are for boondocking.  We have loved all the HipCamps we have stayed at.  If you want to camp with us check us out on HipCamp. 
By primitive campgrounds, we mean those without basic amenities. Often, a vault toilet is the only amenity available, sometimes coupled with running water.
These camping areas aren't necessarily created with RV camping in mind. In fact, they very rarely have hookups and often can't accommodate large rigs.
Many primitive camping areas are located in remote areas. Sometimes these are inaccessible to RVs and trailers. You can often find these campsites in national forests.
Some are free, although most require a small fee (typically around $10 per night).
Make sure you have all the necessary documents with you, including your driver's license and registration
It's so important to make sure you have all required documents with you when driving. Your driver's license proves that you are legally allowed to operate a car and serves as a form of identification, while your vehicle registration verifies that the vehicle is properly insured and roadworthy.
Without these pieces of documentation, you may end up facing serious legal repercussions if pulled over by the police. It may take some extra time before getting behind the wheel, but it always pays off in the long run to make sure you're fully prepared for any eventuality.
Have a list of emergency contacts handy in case of any problems on the road
Being stranded on the road is no one's idea of a good time, but being prepared with a list of emergency contacts can make all the difference.
Whether it's medical attention, changing a tire or finding a tow truck, having contact information available in emergencies can be invaluable.
Keeping updated phone numbers of service providers and family members close by will help in maintaining peace of mind while traveling and let you know that there is someone you can call should something unexpected arise.
Don't risk venturing out without having your lifeline ready – get that list together today!
Transitioning to Full time RV Living can be a stressful and daunting task, but by following these simple tips you can make sure that everything goes smoothly. By being prepared and organized, you'll be able to focus on enjoying the experience without any worries.
Do you have any other moving tips that you've found helpful? Share them with us in the comments below!
You May Enjoy These Related Articles
Did you enjoy this article? Want to hear more? Stay in touch! Sign up below to receive weekly tips and inspiration for your homestead.