Getting Your Camper Ready for Full time RVing in the Winter
Are you looking forward to full time RVing but feeling a bit intimidated by the thought of doing it in the winter? You're not alone! Winter can present some unique challenges for campers, especially if you are used to camping seasonally or even just occasionally. But don't worry – with a few important preparations, you can make sure your camper is ready for life on the road during those chillier months. In this blog post, we will go through all of the things that need to be taken into consideration when outfitting your vehicle and home-on-wheels for those wintery climates – giving you peace of mind so that all of your focuses can remain solidly on the epic adventures ahead!
Disclosure: Some of the links below are affiliate links, meaning, at no additional cost to you, I will earn a commission if you click through and make a purchase. 
Stationary RVing in the Winter
RVing in the winter can be an incredible experience! The beauty of the snow-covered countryside, the lifestyle of living on the road, and the cozy feeling that you get when parked in a quiet spot can make rving in the winter a truly unforgettable experience. Stationary rving allows you to enjoy all of these benefits while staying in one place—without having to worry about the elements.
With stationary rving, you have more control over things like water and heat, which make rving in colder temperatures much more comfortable. Along with ensuring your space is warm and comfortable, rving during winter months also typically means fewer people at campgrounds or rv parks. Aside from enjoying far more space and privacy, rvers also benefit from lower rates during winter months! It's easy to see why stationary rving in the winter is such a popular option for adventurous travelers!
RVs are built to be as compact as possible. This can mean that many parts are located outside, in storage bays, or under the RV. Regardless, these areas need to be protected from the elements in the event of a hard freeze. A best practice is to utilize several of these methods in conjunction with one another for best results.
Rv Skirting is a great way to keep you RV safe in the winter months. It's an inexpensive way to insulate and protect your camper from the cold weather. The insulation will help with energy efficiency and it can also provide protection from animals and pests that are looking for a place to set up camp. Rv Skirting is made of lightweight materials, like fabric or vinyl, which makes it easy to install and maintain. Plus, rv skirting often offers full coverage so it doesn't just shield your RV from the winter weather – it adds curb appeal as well!
You can read more about RV Skirting in our article How to Skirt Your Camper for Winter. 
Heat taping your pipes will take some time, but will be well-worth it. To accomplish this, you must locate all the water pipes outside of your RV and wrap them in heat tape. Be sure to follow the directions so that your tape can be plugged in safely.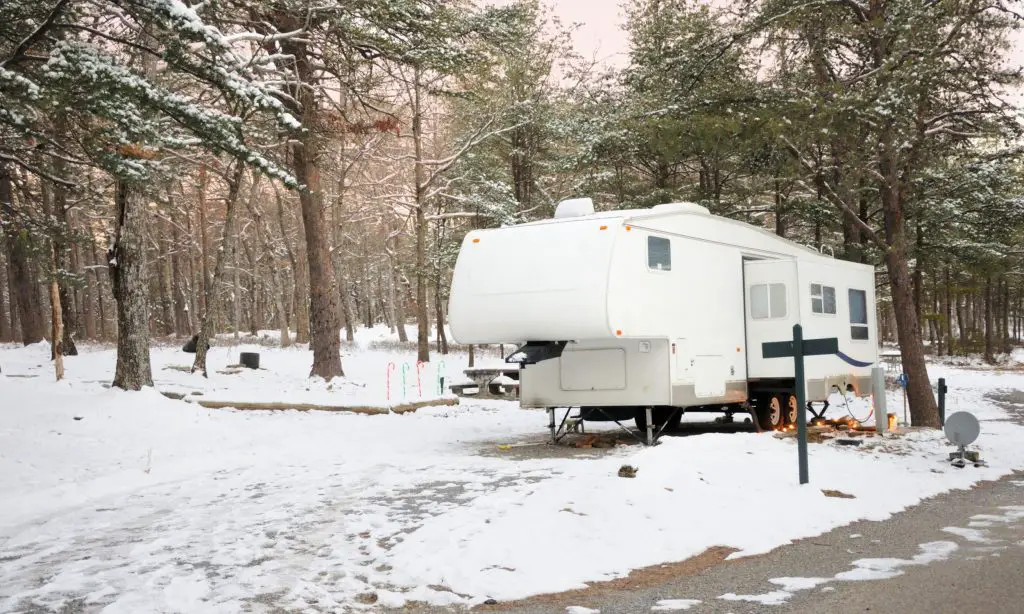 One part of winterizing your RV is adding antifreeze to all of the inner pipes, including the grey, black, and water tanks.
But did you know that adding antifreeze to the grey and black tanks when you are living in your RV during the winter will prevent any wastewater from freezing and bursting any pipes.
It's important to note that an RV should not stay hooked up to a sewer connection during freezing temperatures. Stay disconnected and dump whenever necessary.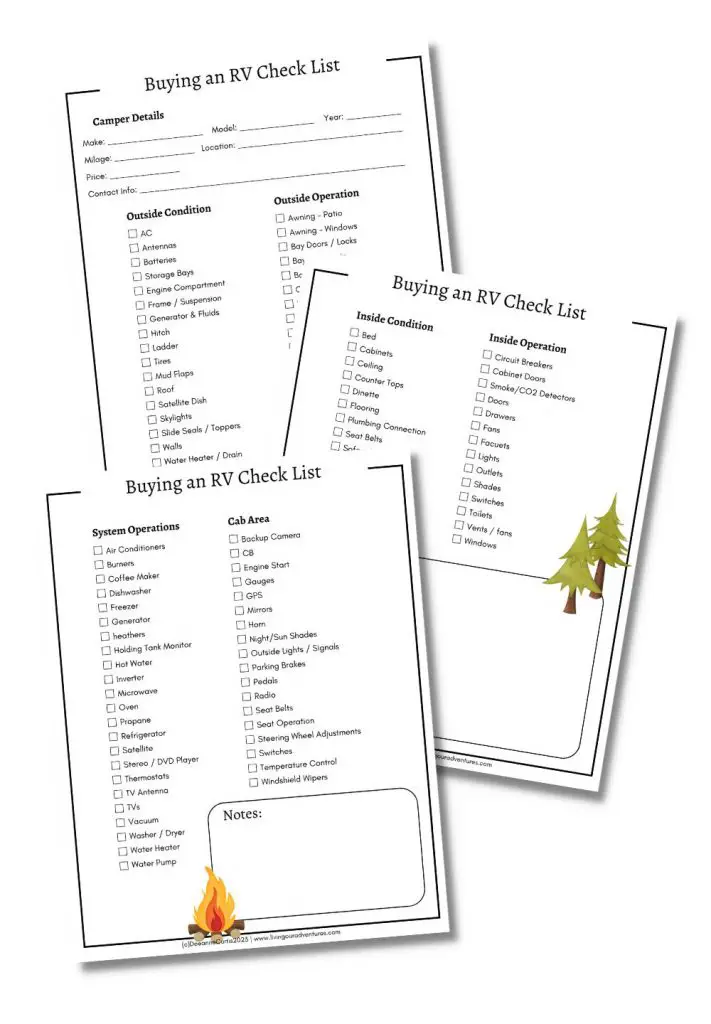 Get your FREE Buying an RV Checklist. Make sure you are buying a quality RV. 
Running water is one of the things I like most about our RV.  For some reason running water just makes everything easier. In the winter having running water can get tricky unless you take the right precautions. 
The first investment here will be a heated hose. They can either be purchased, like this Camco brand hose, or DIY-ed using heat cable and insulated foam.
The best practice for winter RVing is to fill your water tanks using your heated hose and then pack up the hose. It can be too risky for the spigot to stay connected at all times, and parts of it can still freeze, even when using a heated hose.
If you plan on using your freshwater tanks during the winter, be sure to utilize tank heaters (they work and look similar to heating pads) and you may even wish to use a little space heater if your water pump is in the same area outside.
Keeping the inside of your camper warm is going to be key to  you staying warm. Here are tips for keeping the inside of your camper warm.
As the winter chill sets in, most RV owners must decide which type of heat to use – furnace (propane) or HVAC (heat pump)? Yes most RVs have both.
Though it may sound costly, furnaces are far more reliable and efficient when dealing with particularly cold temperatures. The good news is that many modern RVs come equipped with a combination system; if the job becomes too large for just an HVAC, your rig automatically switches on its accompanying propane-powered furnace! 
If your propane tanks are not filled to their fullest capacity, you can quickly find yourself freezing! When winter camping, it's best to be prepared – and that includes filling up on propane too! Make sure you are keeping a close eye on your tanks and getting them filled when they are low.
Fortunately, keeping extra tanks ready to go is a lot easier than it may seem. Hooking in additional tanks to your camper by using a stay longer propane adaptor kit gives you plenty of propane and make it so you don't have to fill up as often.
To help keep your RV cozy during the winter months, consider investing in an alternative heating system. From fan heaters to oil-filled radiators and ceramic warmers, there are many different kinds of space heaters out there – be sure to do your research before deciding on one! However, never forget that bringing a propane tank inside for use with a propane heater can pose significant safety risks; always make sure you safely store it outside instead.
Learn more about alternative heat sources for winter camping HERE.
Keeping your RV warm does not have to mean an outrageous electric bill! By insulating the windows, you can dramatically reduce energy costs and be more comfortable during those cold winter months. With products ranging from thin plastic sheets to custom-made materials that fit directly into scenic views – there's no need for your home away from home to suffer in chillier temperatures. Insulate now and enjoy a cozy ride all year long!
Learn More about Insulating your Camper Windows for Winter HERE.
By investing in thermal curtains, you can enjoy warmth without inconveniencing yourself or depleting your resources too quickly.
Thermal curtains effectively trap air indoors, ensuring that any heat generated by oil heaters or your furnace can remain inside and keep everyone snug. These types of curtains also prevent cold air from entering your RV through windows, windowsills and under the doors — places you may not even consider until it's too late!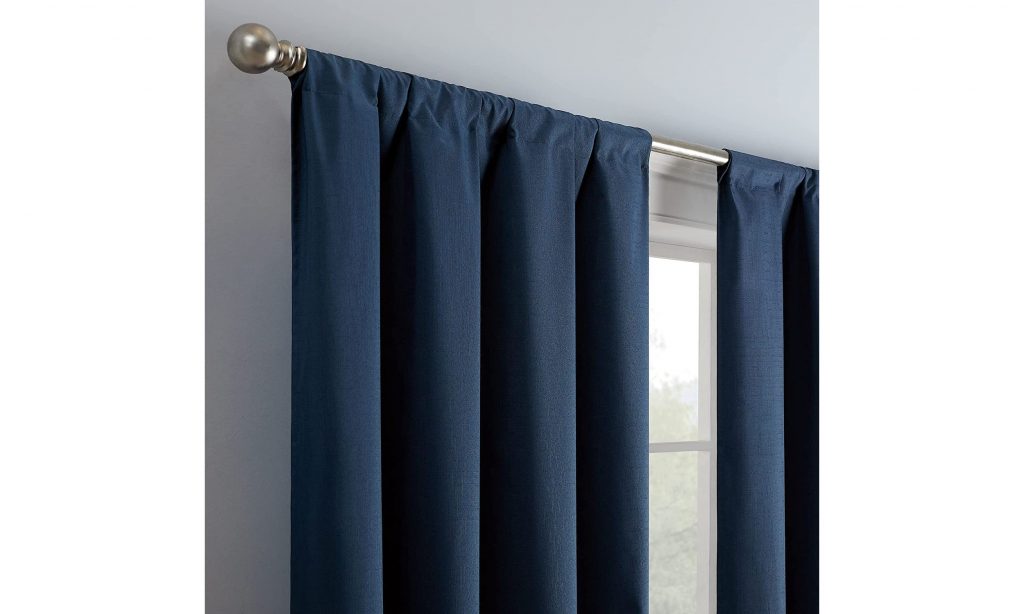 As temperatures rise, the risk of moisture build-up increases for RV owners. Warmer months can create ideal conditions for mold growth if proper precautions aren't taken. Fortunately, dehumidifiers are an effective way to keep your cabin dry and ensure that mold doesn't become a problem – just make sure you have enough depending on the size!
We love our Tenergy Sorbi Air Dehumidifier w/Air Purifying Function to keep moisture out of our camper!
Now that you know how to get your camper ready for full time RVing in the winter, are you feeling excited about the possibilities? We hope so! Winter camping can be an incredibly rewarding experience. It's a great way to enjoy the outdoors without all of the crowds and traffic that come with peak camping season. So go ahead and start making your plans. And don't forget to pack your cold weather gear!
You May Enjoy These Related Articles
Did you enjoy this article? Want to hear more? Stay in touch! Sign up below to receive weekly tips and inspiration for your homestead.