How to skirt Your Camper for Winter
Ah, winter. The temperature is dropping and the thrill of outdoor camping trips slowly becomes a distant memory for many. But that doesn't have to be the case! With a little extra effort, you can keep your beloved camper warm and snug throughout winter with some skirting coverage – saving yourself from any uncomfortable chilly-nights during those cold days and lonely nights spent away from home. In this blog post, we'll cover the basics so you can start heating up your campers with ease!
Disclosure: Some of the links below are affiliate links, meaning, at no additional cost to you, I will earn a commission if you click through and make a purchase. 
What is Skirting your Camper?
Skirting an RV means putting material around the bottom of the rig to keep its nether regions protected from the cold.
This is one of the most important things to do if you're staying somewhere that gets below freezing (don't forget wind chill) for long periods of time. Especially if your rig doesn't come with a winterized set-up that includes a covered and sometimes heated underbelly, heated tanks, etc.
Even if your rig does come ready to survive the winter weather, it's still smart to skirt your rig because it helps keep it warmer inside the rig, which means you don't have to run the heater as much.
What Material to use when skirting
AirSkirts – Modern inflatable skirting.
Vinyl material that snaps around the RV
Plywood
Thick plastic sheet
Styrofoam boards
Snow
AirSkirts are an inflatable RV skirting solution that is reliable and definitely innovative. The "skirt" is made of cylinder tubes that are inflated with air. Skirting kits come in a number of sizes that are able to fit with rigs of all sizes. Kits come complete with tubes, electric air pump, storage bag, and patch kit. Pricing starts at $1,299. AirSkirts come with a five year warranty. This is a great option if you are on the move!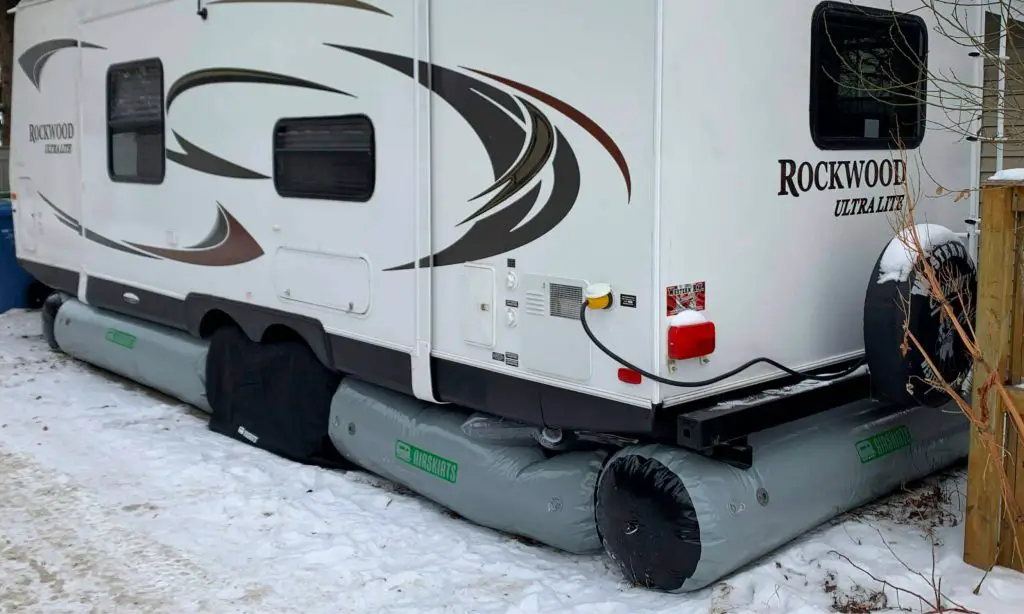 If you want a high quality skirt without the price tag of a custom model, EZ Snap RV skirting is a great option. An EZ Snap skirt comes in a kit that you will then measure and install yourself. Kits come in a variety of sizes. You choose the one that is recommended for your rig then are responsible for installing fasteners, cutting the material based on your measurements, and hanging the skirt. EZ Snap offers a number of tutorial videos to ease the process. EZ Snap RV skirts are made of Diamond Weave™ premium skirting vinyl. Diamond Weave™ is a very strong and durable vinyl with half the storage bulk of regular RV skirting. They are said to last 6-8 years in harsh winter environments. The price for this solution is going to vary on the sized kit you need but the most common kit, which is 80 feet, runs $814.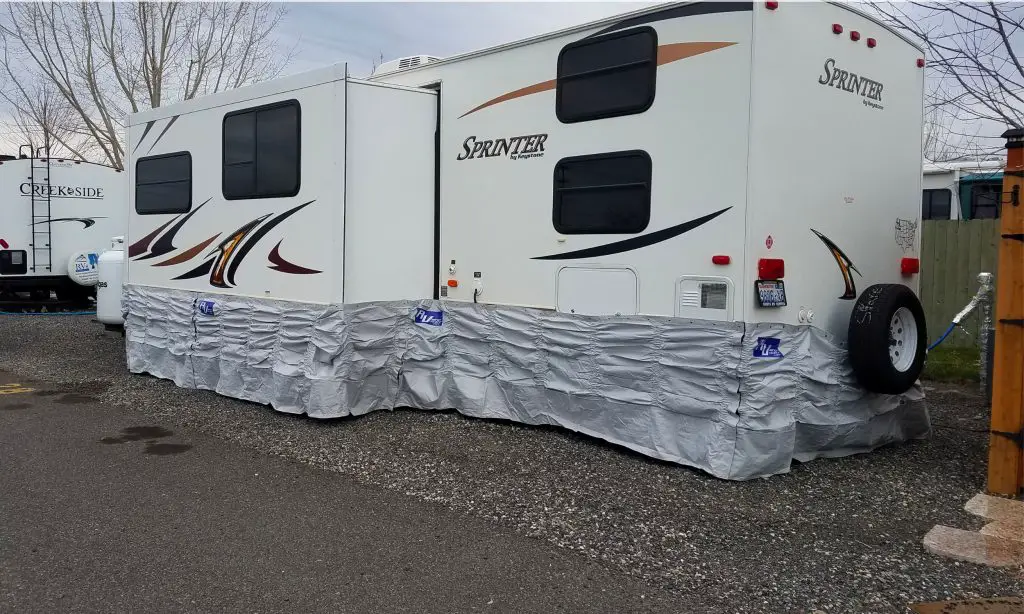 RV WindSkirt presents a fantastic budget-friendly solution to RV skirting! With quick and easy installation, two sizes that fit rigs of all shapes and sizes, lightweight materials for maximum portability during travel – this skirt has it all. And the best part? You won't have to break your bank with prices ranging from $100-$120 – making high quality RV living accessible no matter where you go!
Made out of light and durable canvas, the top portion can easily attach onto any type of car while the bottom part contours itself right against the ground so that no gap remains open – plus it has Velcro sewn in both ends which lets you join multiple panels together if need be! It's an ideal solution for campers wanting a secure yet versatile system.
For a perfectly tailored skirt that will keep the wind and weather out of your RV, custom skirting is typically the way to go. Working with companies like RV Skirting Pros can ensure you get an accurate fit from top-of-the line materials. While it may seem costly at first glance, investing in this precision solution should provide protection for years down the road – plus little worry about gaps where leakage or damage could occur! Heavy duty vinyl is usually used for these skirts so they can handle whatever Mother Nature throws their way without sacrificing aesthetics.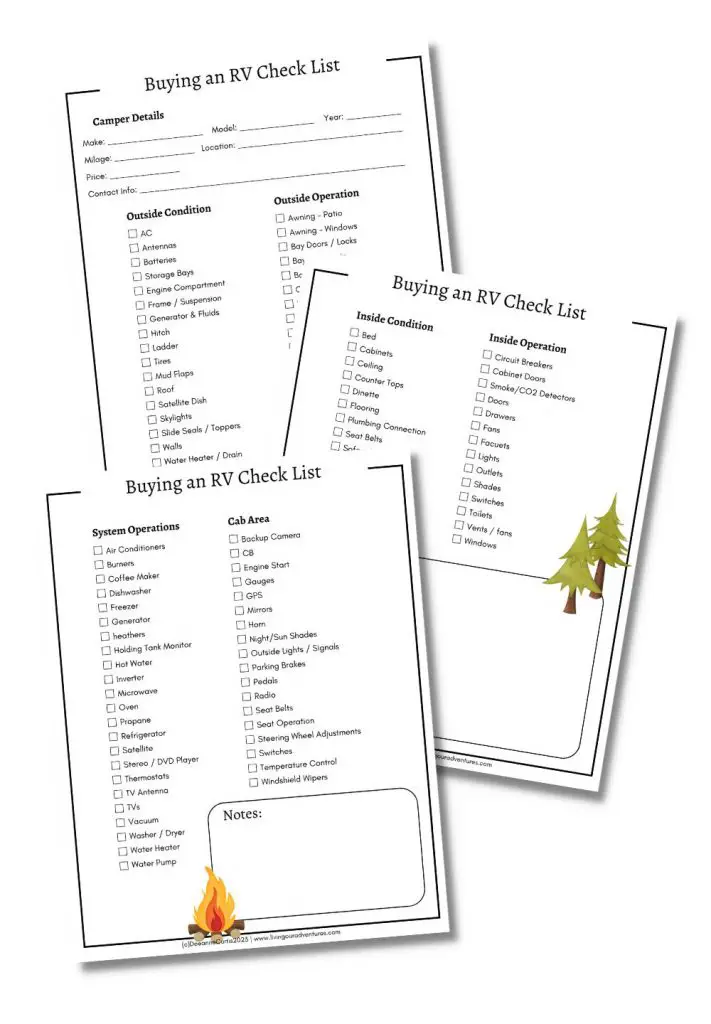 Get your FREE Buying an RV Checklist. Make sure you are buying a quality RV. 
Armed with the power of online resources, RVers have a plethora of DIY skirting options to choose from. Whether you're looking for an inexpensive solution or one that stands up against harsh winter weather – making your own skirt can make all the difference in meeting those needs! However, keep in mind it requires more effort when compared to buying one pre-made and isn't ideal if you plan on frequent traveling. But don't worry; stationary campers can still benefit immensely by going down this road as they get exactly what they need without breaking their wallets!
Save money and create a custom RV skirt with insulated foam board! This material is lightweight, easily manipulated to fit your rig's dimensions, plus any rigid foam boards will do. We suggest bolstering the styrofoam cuts with plywood for additional stability; aluminum tape can be used to hold it all together in place. Perfectly cost-effective and quite efficient – just remember that this DIY solution won't let you hit the road again until taken apart.
Transform your camper with a unique, custom RV skirt – no sewing machine required! Using vinyl tarps and grommets, you can easily construct budget-friendly skirting to add style and functionality. Choose from new or used billboard vinyl depending on how much money you want to spend; velcro, suction cups, or rocks will help secure it in place while still allowing for easy traveling. For the perfect mix of customization without breaking the bank – try DIYing an RV skirt today!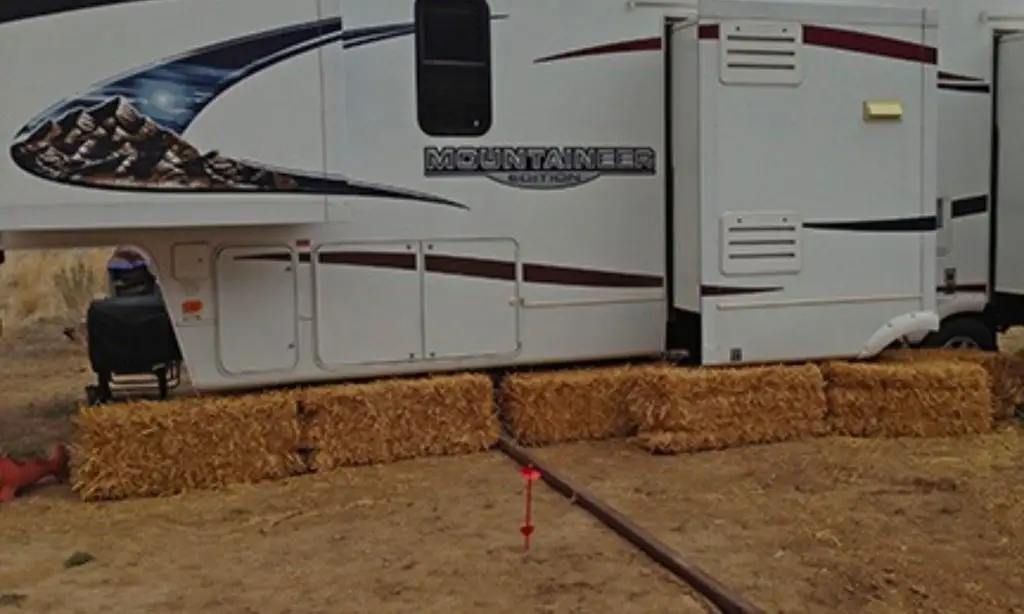 If you're looking to create your own RV skirting, straw bales are a great – and cost-effective – option. Though they provide good insulation for colder months, just be sure to wrap them in tarp or garbage bags as mice could use it make their winter home! Additionally, keep safety at the forefront of mind: one spark near these flammable materials can spell disaster.
Not only do you have an excuse to play in the snow, but it can also double as insulation for winter camping trips! With enough of your fluffy white buddy on hand and a bit of rigid foam board underneath, all you need is some shoveling to insulate your rig. Creating this DIY skirting solution is sure to lead to quite the chill adventure!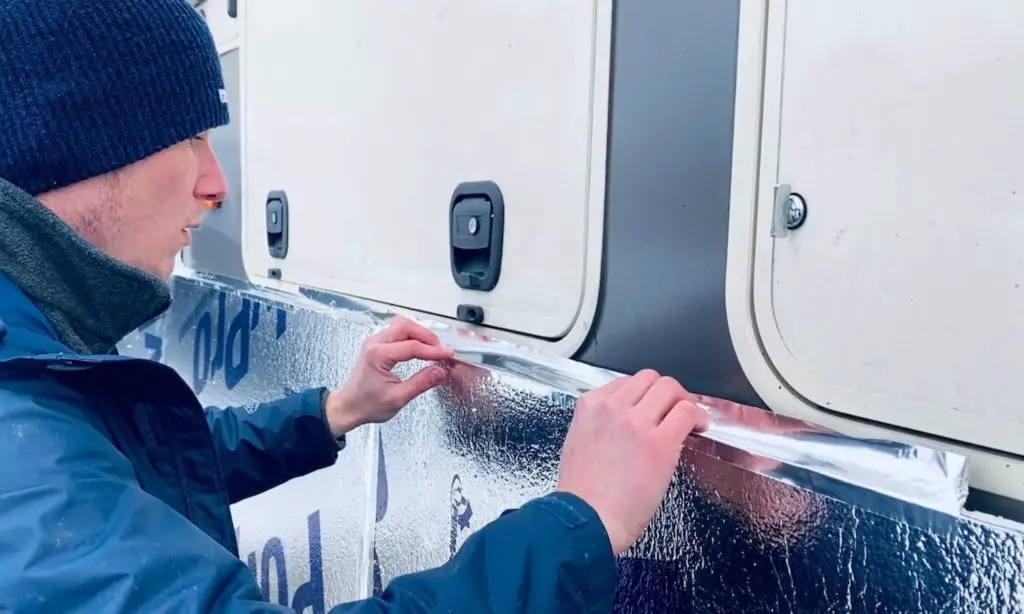 As you can see, there are a few different ways that you can go about skirt your camper in winter. In the end, it is important to remember to make sure that you take the time to research all of your options and find the one that works best for you and your camper. With a little bit of effort, you will be able to keep your camper well-insulated and protected from the cold weather this winter season.
You May Enjoy These Related Articles
Did you enjoy this article? Want to hear more? Stay in touch! Sign up below to receive weekly tips and inspiration for your homestead.