Not sure what it is but we love visiting caverns.  So when we camped less than 1/4 miles from Shenandoah Caverns we had to visit!!  Last year we visited Endless Caverns (you can read about our trip here), so we were excited to see how Shenandoah Caverns compared. And everyone agreed Shenandoah was much better than Endless.
Shenandoah Caverns were discovered in 1884 during the building of the Southern Railway through the Shenandoah Valley. Many local farmers, including Abraham Neff, donated stone from their property to the building of the railroad. The Neff family allowed the railroad to quarry rock on their property, adjacent to where the railroad was built. Neff's two sons were playing in the quarry when they discovered cool air rising from a hole in the ground. Their curiosity was piqued, so the boys retrieved ropes and candles and scrambled down the 275 foot twisting and winding shaft to make their way into the caverns. They continued to visit the cavern for quite some time before telling anyone about what they found.  Once their secret was out the caverns turned into an attraction which they have continue to be for over 90 years now.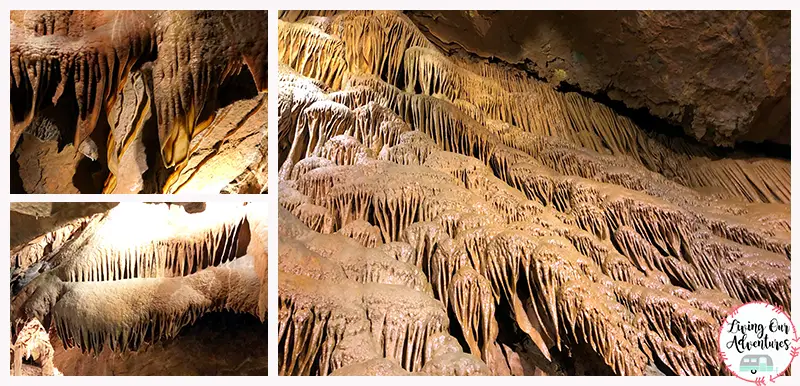 Shenandoah Caverns is currently the only Virginia cavern with elevator service. The caverns stay about 56 degrees year round.  We wish we would have remembered this from last year, by the end of the one mile walk we were all sweating. Shenandoah Caverns have seventeen rooms, the most well known rooms are the Long View Hall and Grotto of the Gods.
Most caverns have rock/dirt floors that when wet are slippery.  Shenandoah Caverns haul in gravel to make the walking path through the cavern safer. This was a great feature considering we took all the kids with us. Henleigh walked the majority of the 2 mile trail without a problem.  We didn't let the boys walk as much considering there were drop offs and things to touch that shouldn't be touched.


Our favorite features of Shenandoah Caverns:
"Breakfast Bacon" The highlight of the tour.
Capital Done

Cathedral Room
Check out their website to plan your visit: Shenandoah Caverns
Looking to Camp near by we enjoyed Shenandoah Valley Campground, LLC you can read our review here.