When camping storage is always a priority. We want the comforts of home but don't necessarily have the space. Camper Organization is a must, here is what we added to our Jayco to add storage and keep organized.
Disclaimer: This contains affiliate links and any purchases made through such links will result in a small commission for me (at no extra cost for you). I only recommend tools and resources I use and love!
Turning our hanging closets into shelves. For the kids closet we used
Closet Maid
system. We flipped the shelves over to give each on a lip so things would stay on the shelf during travel. In our closet the back wall isn't flat so Jamie made custom shelves out of plywood.
Hanging baskets
in the bathroom. The Jayco has a decent amount of storage under the sink in the bathroom but I was looking for a little more convince. So I got these baskets from Amazon and Jamie installed them. Since the walls are thin and the screw holes for the baskets didn't align with the studs he put up 1×4 boards and then attached the baskets to the boards. Extra shelves in cabinets. I am not sure what the manufacturer thought we were going to be putting in this cabinet. It was very tall and skinny, aka a lot of wasted space. So we added a shelf and some baskets. All the kids toys stay organized in one spot.


Under the sink storage in the bathroom and kitchen. To maximize the space under the sink I got stacking baskets from the dollar store. Under the kitchen sink there was already a shelf so I added a basket to keep things from knocking over while traveling.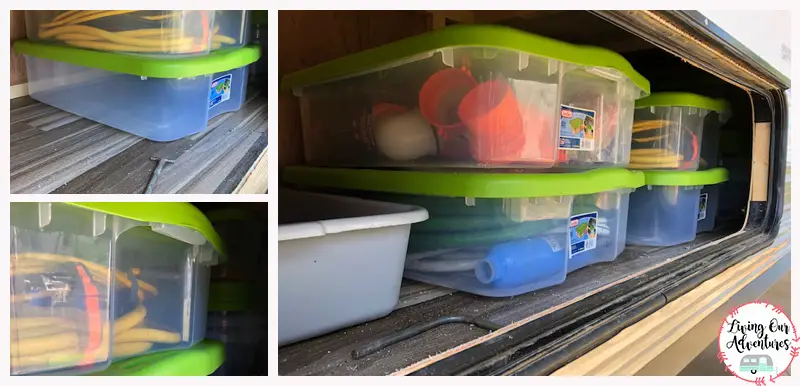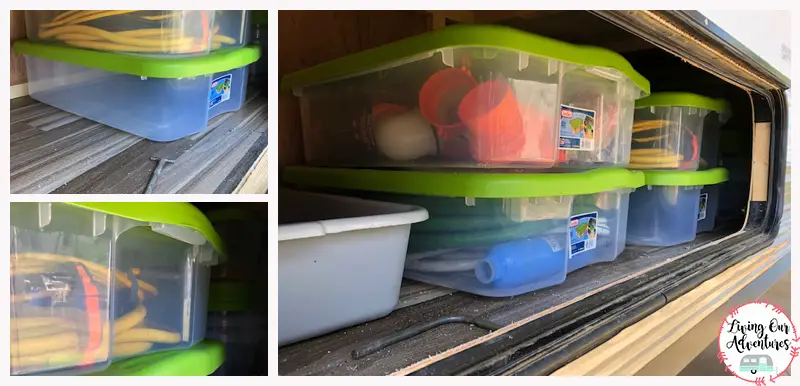 Storage bins
for outside storage. The Jayco has 2 really good sized outside storage areas. We decided to use the back storage compartment for water and electric supplies. I found these stacking
low profile containers
at Walmart. We can stack them 3 high and 3 deep. That's 9 storage bins!!! Not sure if we will be able to fill all 9 of them but there awesome for keeping organized.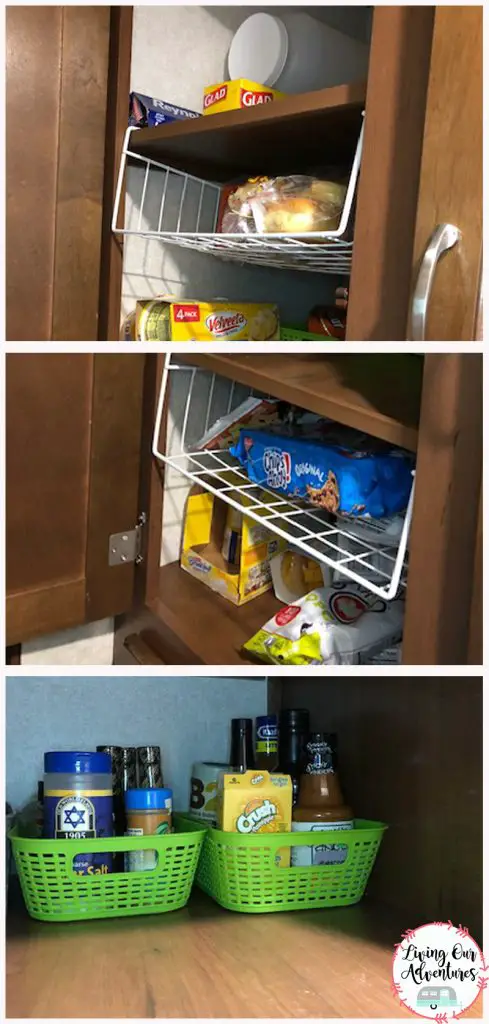 Baskets for pantry: so things don't slide around during travel. These low profile ones are from the dollar store around early spring. And I found ones that would hang from the shelf at Big Lots.  These are great for breads and chips that we don't want smashed while traveling. We are always moving things around trying to find the best place for everything but with each new idea we get organized. Keeping organized in a small spaces make it easier to spend quality time with our kids, instead of searching for that pan that I know we have but just can't seem to find. What do you do to keep your camper organized? Want to know more about our Jayco and how we got it
here
.