When we planned to go to the
Hershey RV Show
we were in now way looking for a new camper.  Our goals were to look for new MODs to do to ours and look to see what our options where down the road to upgrade.  Well we did a little dreaming and found one that we might not be able to live without. Oh and did I mention that it was going to be a much needed date day for Jamie and I.
Things we looked at just for fun…
Truck Camper- Jamie had to go into this one.  He said that the inside was much bigger than the outside let on.  I still don't think we would ever be able to stay in something that small, even when the kids are out of the house.
Airstream- Let me start by saying that I love the look of airstreams, but we just aren't airstream kinda people.  They are really pretty and many would say they are the classic camper, but just not for us. One thing I really did not like was the shower wasn't in the bathroom of many of the models that we looked at. I also felt like they didn't have much storage space.
Jeep Tops- We didn't go inside but these were fun to look at.
Class A- This class A was huge, I could barely fit the whole thing in the picture.  Even thought it was big it was really only for 2 people and had way too many high end features.  Marble floors and countertops, BIG tv's, marble shower, etc. Very pretty but not our style.
Tear drops- These were cute but again too small.


The one we fell in LOVE with…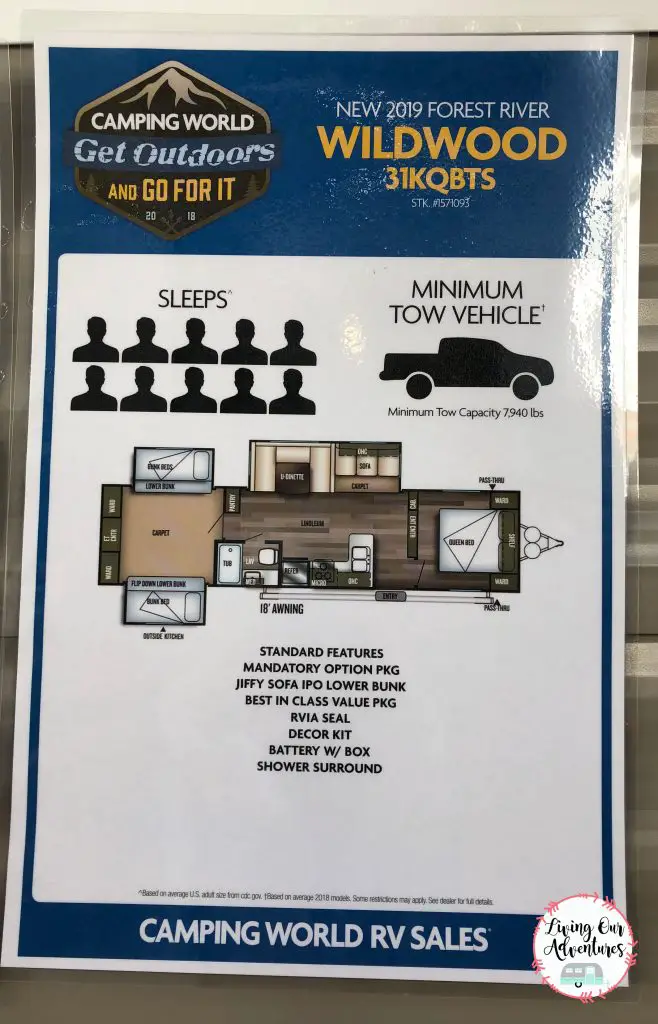 This was the second or third camper we went into and from that point on we compared everything to this one.  We loved that it mirrored the current floor plan that we have (which we love by the way), the master bedroom and bunk house had doors, and the kitchen had more counter top room. WE also loved the steps into this camper, they were very sturdy and had adjustable feet that touched the ground.  This camper also came with stabilizers which is something that I had been looking at to help with bounce when we are camping. Jamie loved the outside kitchen; it had a big door that lifted up and also acted like an awning, a big refrigerator, and a grill that swung out from the bumper.


The BEST part of this camper was the bunkhouse. It had 2 slides which made it a room of its own. When we walked in the first time there was another family of 5 already in the bunkhouse, all 7 of us had no problem moving about. It had a bunk on either side so 4 beds and the whole back wall was storage/entertainment center.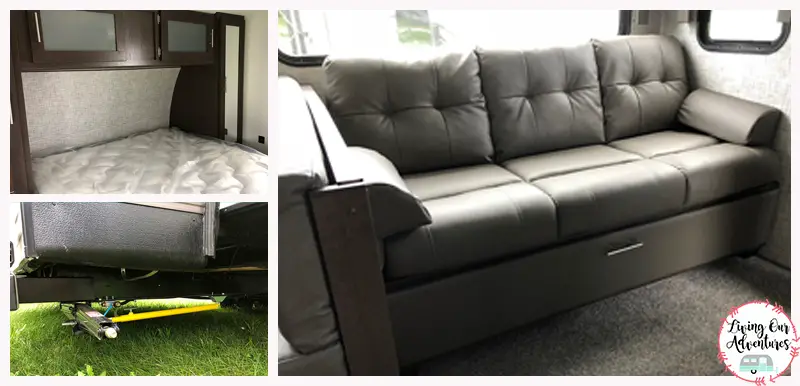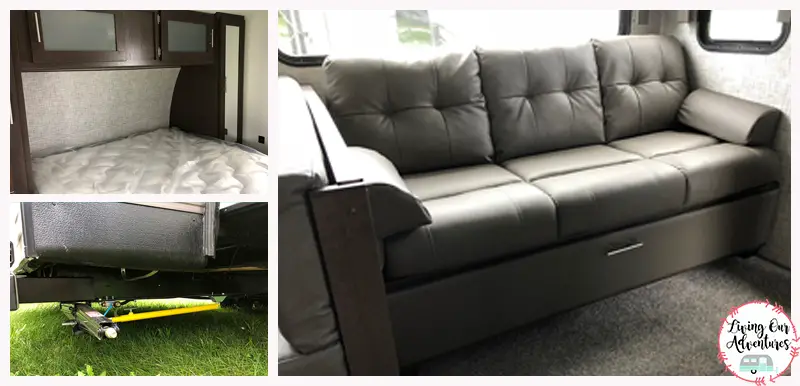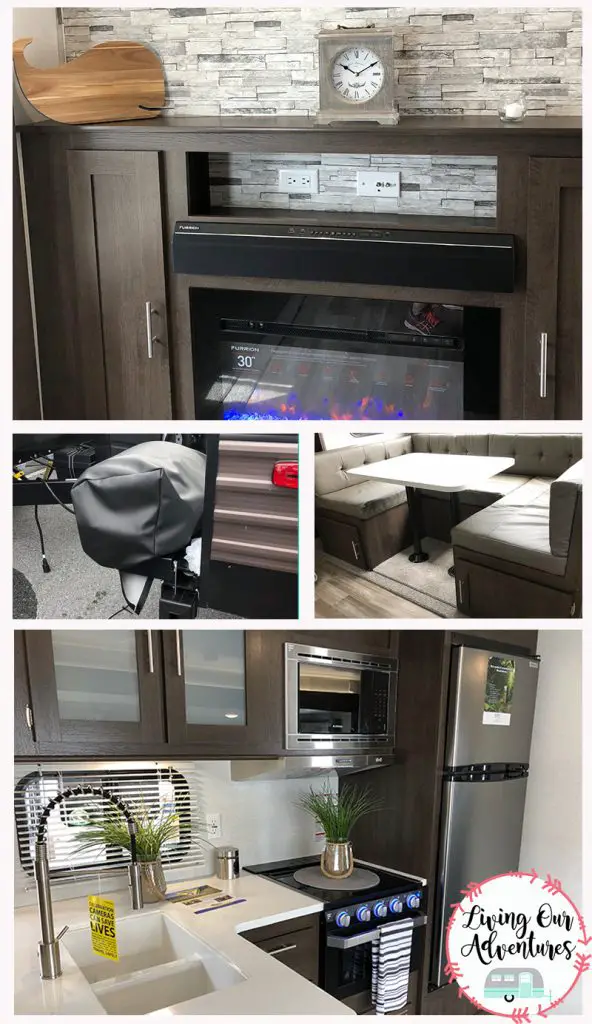 We didn't like the fireplace, the placement of the sink, and that there was no skylight in the shower. But after talking to the rep from the manufacturer we learned that fireplaces are standard in all 2019 models but the 2018 models don't have them.  This was good news for us because we don't like to purchase the current model years anyway. Also after reading the brochure we learned that a skylight in the bathroom is an option on some models. So of the 3 things we didn't like 2 of them are offered just not in the one we saw. 🙂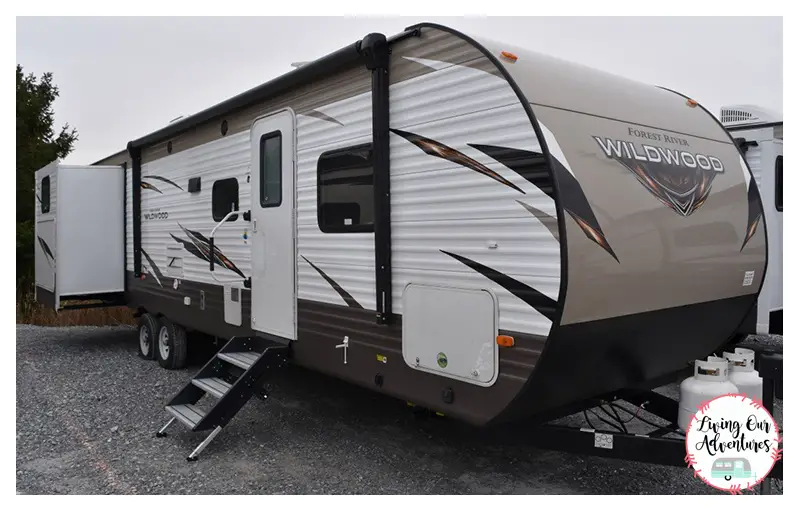 So on the way home I did a quick search and found a few 2018 Wildwood 31KQBTS for sale within 250 miles of us.  Two of them were actually at our local RV center (
Leo's Vacation Rentals
). These two didn't have the skylight in the shower, but I found a few others that did. 🙂 Who knows what will happen, our Jayco is currently at the doctors as Henleigh would say, but this Wildwood sure did catch our eye and made an impression. Do you know of anyone who wants to buy a camper?  We are willing to sell our
2017 Jayco Jayflight
!!!