1999 Coleman Bayside Pop Up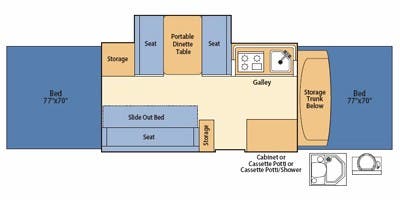 I could not find an exact floor plan for our camper but this one is close. In ours the Galley is on the left with the Cabinet across from it. The Seat and Storage is on the right.
Length: 25′ 9″
Width: 7′ 3″
Weight: 2595 lbs
Sleeps: 8
Slides: 1
I wouldn't say that we "picked" this camper it was kinda given to Jamie. Here is a little history on the camper and how it became ours.
When Jamie and I met we each had our own pop-up campers. I had a 2004 Coleman Fleetwood Yuma that my parents used often and Jamie had a 1999 Coleman Fleetwood Bayside. Since my parents were using my camper it was just natural that Jamie and I would use his for our adventures. 
Jamie was given the Bayside from a family friend. When he first got it he did some work to clean up the inside since it had sat in a field for many years. The mice had eaten holes in the canvas and screens. So he sewed screen patches over the holes in the screen and canvas patches over the hole in the canvas. He did a few other repairs and replaced all the tires. Beyond the cleaning and minor repairs, he didn't do much and NEVER once did he take it out.
Well, that was until he met me!!  Our first trip was to supposed to be to Assateague, but that didn't go as planned. I would go as far to say that it is our biggest EPIC FAIL to date. So our first trip ended up being a few weeks later. That trip was just the beginning, we were hooked and wanted to camp as often as possible!!
Curtains & Cushions
Exterior Roof Repair
Cabinet Refresh
Storage Solutions
Interior Roof Support
Baby Proofing the Beds
USB Outlets & a Total Rewire!
After having the twins we decided that continuing our adventures in a pop up was just too much work. So we decided to upgrade to a Travel Trailer. Our Crazy Decision to Upgrade documents how we came to this crazy decision. If you are considering an upgrade check out When to Up Grade Your Camper.