Coleman Bayside Pop Up Tour
I don't know about you but I love seeing what others have done to the inside of their campers. It always gives me ideas as to what we could change about our camper. Before starting our renovation I would check the pop-up princess blog about 3-4 times a week just waiting for her to showcase another pop up remodel. And if I love looking at everyone else's camper remodels then I should probably post ours for you to see. So here is a picture tour of our 1998 Coleman Bayside Pop Up.
Outside-
Roof– Being we have a Coleman the top needed to be fixed up a bit. This was a huge project and one that needed to be done first.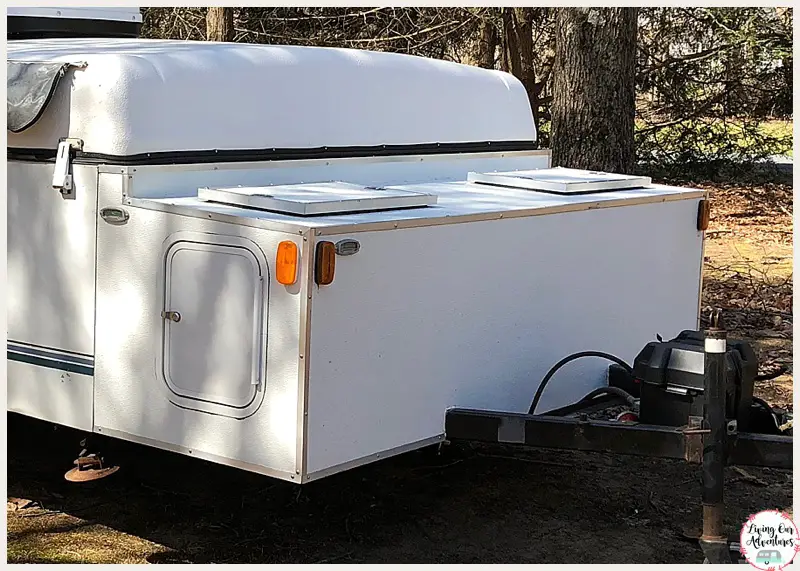 Storage Box– On the outside, we completely demoed the front storage box and rebuilt it. This was a big project and you can read about in our Pop Up Camper Storage Box Rebuild post.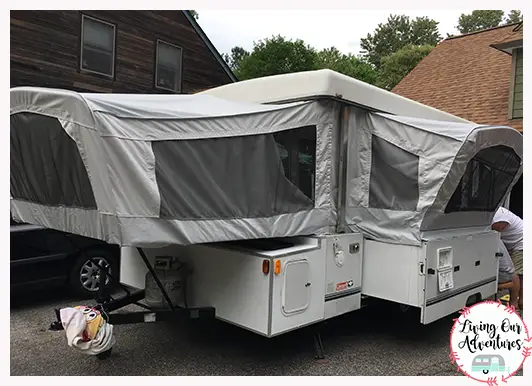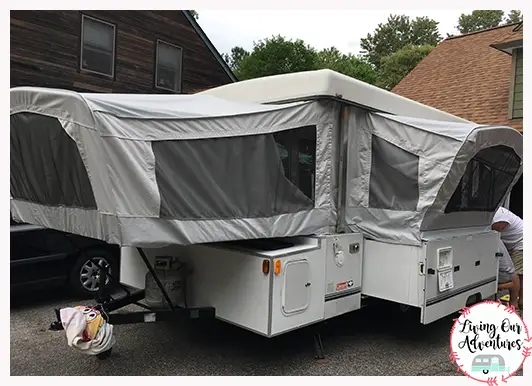 Canvas– The canvas had seen better days and the mice had gotten a hold of it so we replaced the canvas.
And to make it feel like home I had to add a decal with the name we choose.
Inside-
Kitchen area– we painted all of the cabinets a cream color, replaced the icebox, took out the one shelf across from the stove/sink and replaced it with a 3 tier shelf that folds flat for travels. There is a big lower cabinet across from the sink/stove that is really tall and often felt like a waste of space so before putting the cabinet doors back on we added a shelf, which gave us a lot of extra storage.
Cushions– I covered all of the cushions with a beige, green and tan flower print. To ensure that it wasn't too much floral I covered all of the seat cushions in solid green. All of the fabric was from Joann fabrics and it is a duck cloth material that would be easy to clean. I followed this simple tutorial from the Pop Up Princess when covering the cushions
Curtains– instead of buying fabric for the curtains and making them from scratch I bought pre-made curtains from Target. Then I hemmed them to length and used white cotton fabric to add a backing to make them blackout curtains. You can find that tutorial on Craftsy. Once that was all done and ironed I sewed on the valance clips. Jamie had thrown away all of the old curtains so I did have to buy new valance clips on Amazon.
Walls– there aren't many "walls" per se in the camper because of the bench, the cabinets, and the table so we didn't have too many walls to paint. For the two sections of wall space, we went with a gray because most often we would kick or hit that wall climbing up into bed.
Storage– The clothing storage in the camper was lacking and very inconvenient. So we took it out and added these stacking pull drawers from Amazon. They aren't cheap but it gives everyone more space for their clothes and makes it much easier to pack. For travel, we unstack them and line them up on the floor.
Rugs– are from Target. They cover the floor just enough so you don't feel like you are walking on the sand all the time. I have also thrown them in the washer after rainy, muddy trips and they have held up really well.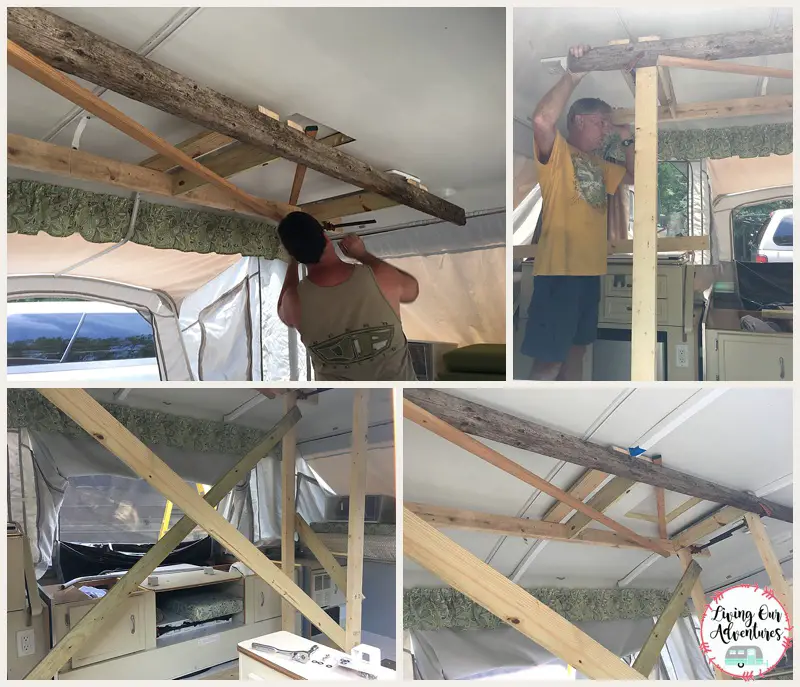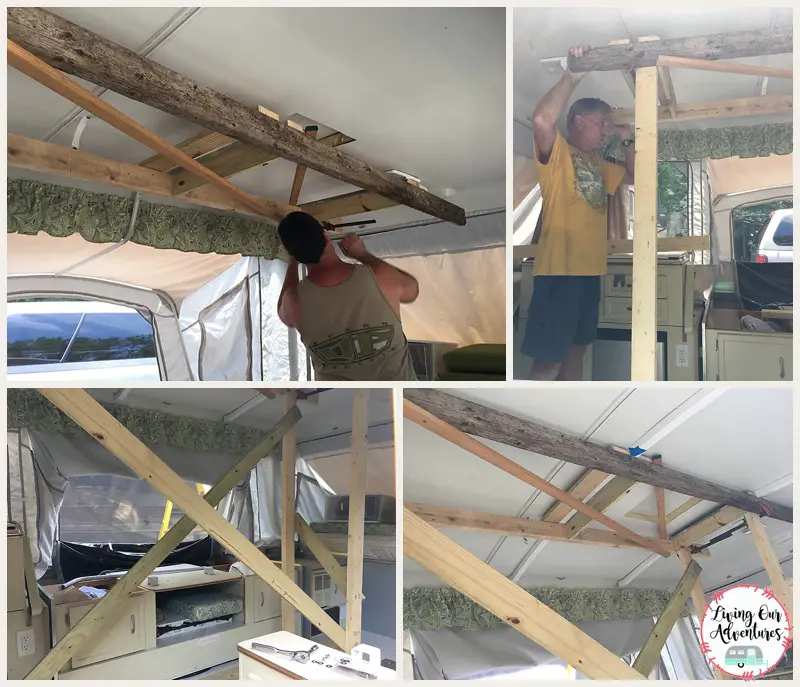 Roof Support/AC Unit– were not as fun decor wise we did beef up the roof by adding roof support and then added an AC Unit to make summer camping more enjoyable.
From what the camper looked like when we bought it to what it looks like now is truly amazing to us. Having a place that feels like home while camping is relaxing and make camping more enjoyable. This Coleman Bayside Pop Up truly feels like home.
If you are looking for other Camper Modifications please subscribe to our Newsletters and check out our Camper Mods page.