Must Haves for Summer Camping in a Pop Up
Are you ready to hit the road this summer on an exciting camping adventure? If so, packing up a pop up camper might be the perfect way to get started. Pop up campers are an easy and fun way to travel, offering convenient transportation options that can fit all of your supplies for a memorable trip. This blog post will cover a few must-haves for when you're out camping with a pop up camper, ensuring that your vacation is filled with great memories and plenty of outdoor exploring!
Disclosure: Some of the links below are affiliate links, meaning, at no additional cost to you, I will earn a commission if you click through and make a purchase. 
We learned out lesson the hard way… the boys were 6 weeks old and we were camping at the beach for a week.  When we got there we left them in their car seats while we set up. It was cloudy so we didn't think they would get sun burn. Boy were we WRONG!!  Their faces got it bad. 
Learn from our mistake. Pack sunscreen and use it!! Even when you don't think you will need it. 
Most pop up campers these days have ac but it doesn't always work the best and lets face it… Pop up campers don't have the most inside space. Making a screened in room a must for summer camping in a pop up camper. 
Not only is it an additional space to hang out but it is a good place to get out of the sun or the rain. We love ours!!
We set up a table inside to store things like sunscreen, go to kitchen stuff and so much more. 
We have the Cabana 9ft Dome Awning.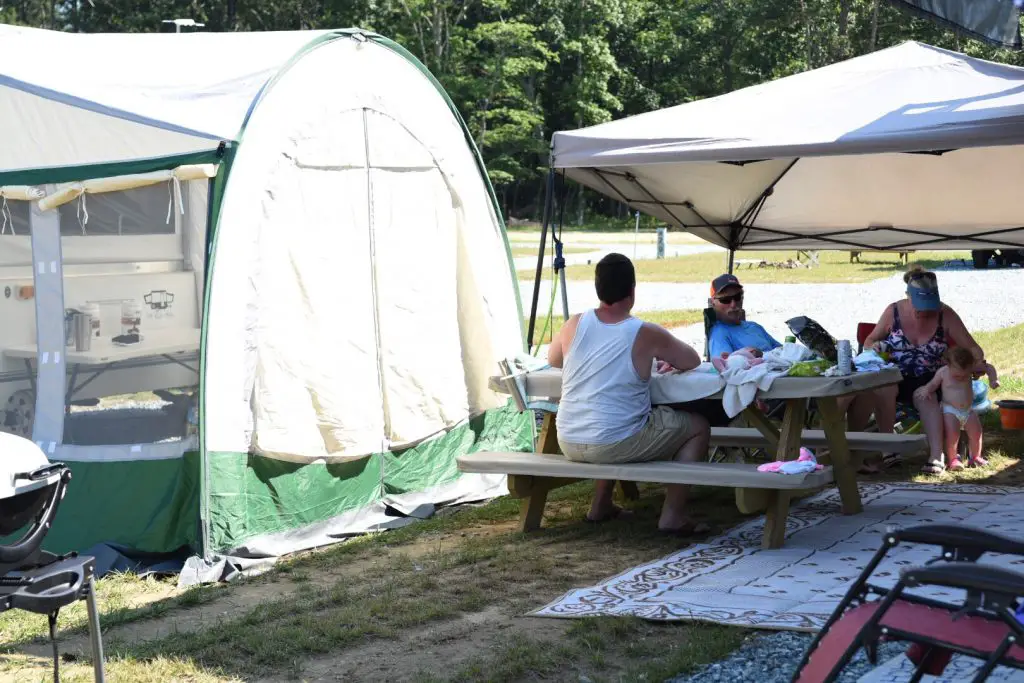 3) Outside Cooking Station
Summers are hot and you are not going to to want to add any extra heat to the inside of your pop up.  Invest in a good outside cooking station that is also easy to move.  That way if it rains you can move it into your screened in room and cook dinner where it is dry.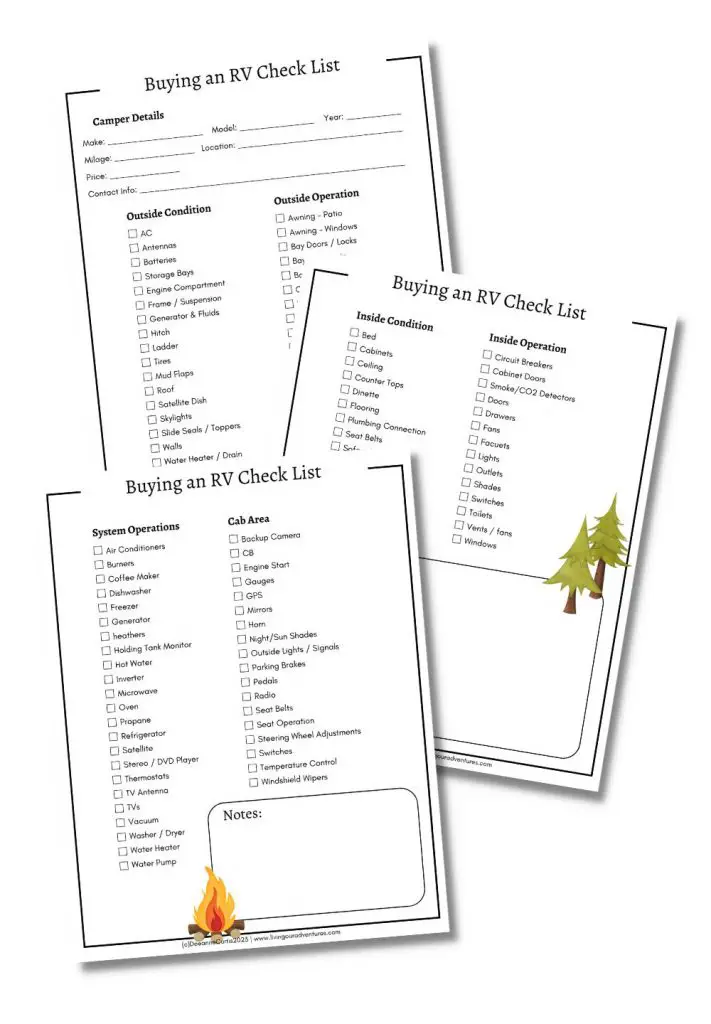 Get your FREE Buying an RV Checklist. Make sure you are buying a quality RV. 
The beach is great but some days you just don't feel like lugging all the gear to the beach and then have to clean it all up when you get back. Along with making sure each kiddo gets all the sand off before they hop into your bed because you know that is what they are going to do.
For those days where you just feel like hanging out at camp blow up a kiddie pool and fill it with some water. Your kiddos will love splashing around. 
On days you are going to the beach fill up the pool before you leave. When you get back it will be the perfect temp for a bath. 
These are our favorites Orange & Pineapple Inflatable Kiddie Pool Set.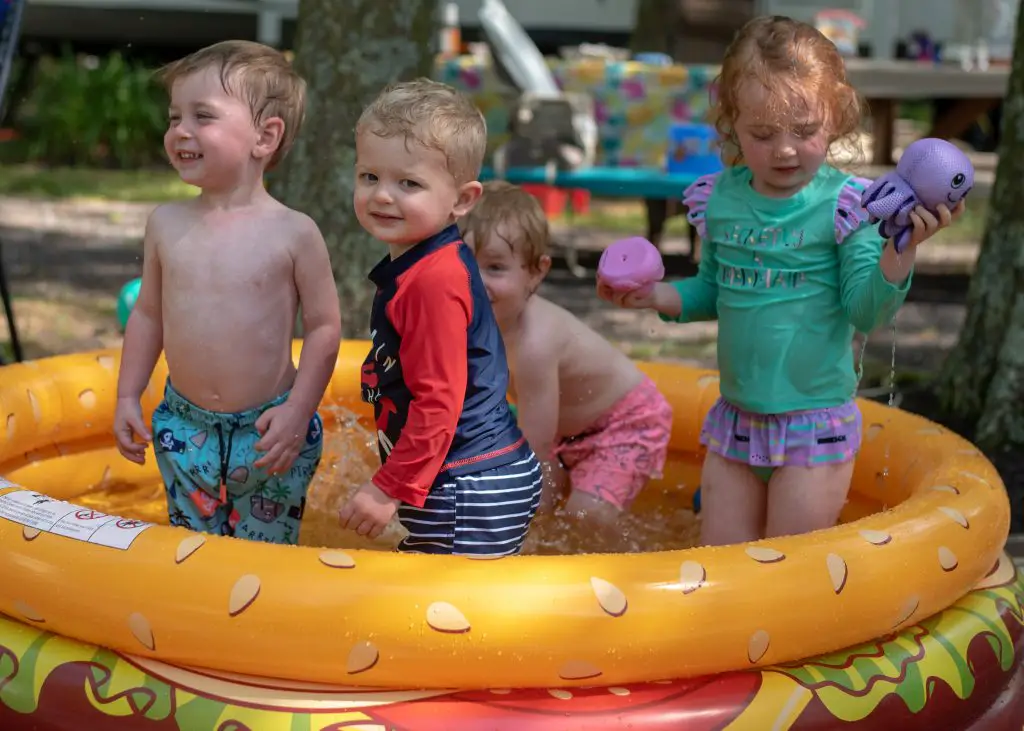 No mater where we are camping we always have a rubermaid full of outside toys for the kids to play.  This bin comes in handy when we first arrive and are trying to set up.  It is also great when I am trying to make dinner. 
The kids know that is has toys to play with and they will pull it out when they are looking for something to do. A must have for our toy bin is kid size balls, each kiddo gets one and they have so much fun coming up with games to play. 
Need some ideas for your toy bin check out Dollar Store Kids Camping Boxes.
When all else fails have a SNACK!!  It might just be in my head but when you are camping you are always hungrier, right?
I know this to be true for my kiddos.  They are running around and playing so much they eat more. So I always make sure we have extra. Trail mixes and granola bars are an easy snack to take along. 
Pack some extra snacks. If you need some ideas just out 10 must have camping snacks. 
A fan is just good to have. You can use it in your camper to keep the air moving and to keep it cool.
It is great for outside when there might not be a breeze and you want to keep those pesky flies and mosquitoes away. 
Pack a fan you will be happy you did.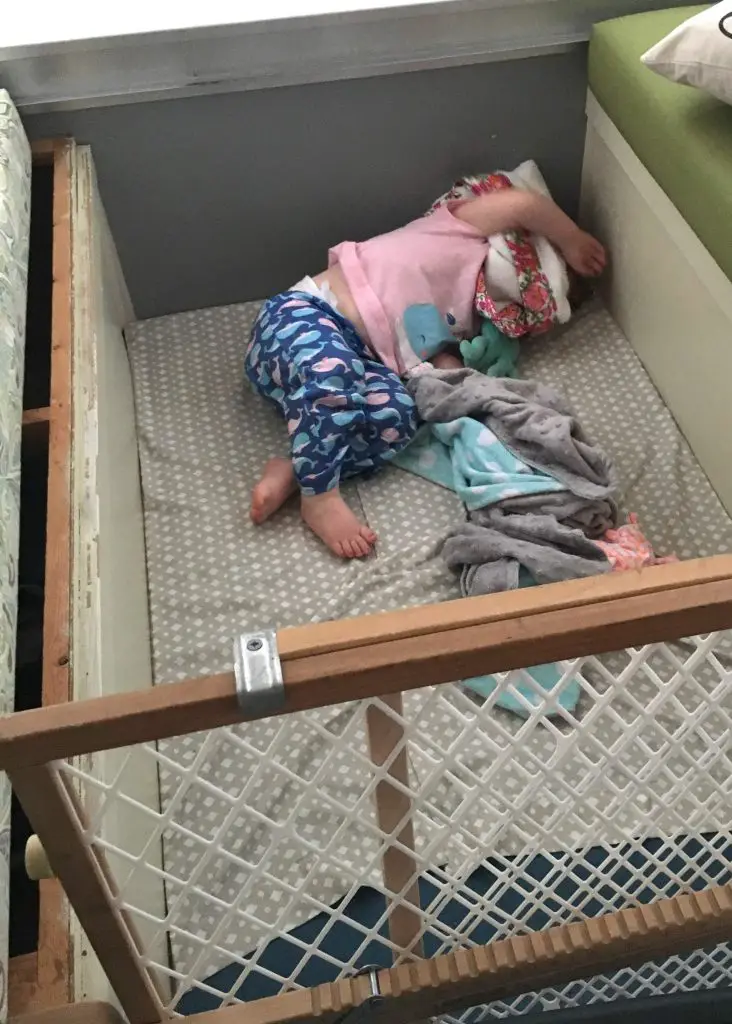 Summer is the perfect time to get out and explore in a pop up camper. However, before you hit the road, be sure you have these essential items for a safe and fun trip. From kitchen necessities to must-have electronics, this list will help make your packing process a breeze. So pack up your pop up camper and get ready for an adventure!
What are your must haves for summer camping in a pop up camper. 
You May Enjoy These Related Articles
Did you enjoy this article? Want to hear more? Stay in touch! Sign up below to receive weekly tips and inspiration for your homestead.