Everything You Need to Know about Camping in a PopUp
Are you thinking about taking the plunge and going camping in a pop up? It's a great way to get out into nature without all the hassle of traditional camping. But before you pack up your things and hit the road, there are a few things you should know about popup camping. In this blog post, we'll cover everything from what to pack to how to set up your campsite. So whether you're a first-time camper or a seasoned pro, read on for everything you need to know about popup camping!
Disclosure: Some of the links below are affiliate links, meaning, at no additional cost to you, I will earn a commission if you click through and make a purchase. 
What is a pop up camper and how does it differ from other types of campers/RVs
A pop up camper is a truly unique camping experience. It features a less permanent-feeling and more affordable design than other types of campers and RVs. Instead of having walls and a roof, like traditional motorhomes, the pop-up camper has canvas tent-like sides that can be folded down and expanded to give you the protection you need while still providing a great feel of the outdoors.
Pop-up campers also have all the amenities such as kitchenettes and sleeping areas that you would find in other recreational vehicles, but they don't come with all the bulk or cost associated with them. This makes them ideal for camping trips where space may be limited, while still giving you all the creature comforts you would expect from your recreational vehicle.
The benefits of using a pop up camper - why they are so popular
Pop up campers have become increasingly popular for those who want to experience the outdoors without the hassle of setting up a tent.
Their size and affordability make them a great choice for anyone who loves exploring and camping.
They provide great protection against the elements – mosquito nets and windows coverings keep out unwanted bugs, plus their raised bed base provide more insulation from cold ground temperatures and draughts than tents.
As well as having built-in ventilation systems, most models also come with refrigerators, propane heaters, stoves, ovens and even air conditioning units; making them home away from home while traveling.
Not only are they lightweight and easy to tow behind a car or truck, but they can be set up in minutes – meaning you can spend more time enjoying your trip.
How to set up a pop up camper - step by step guide
Setting up a pop up camper is a rewarding experience that can take your camping trips to the next level. All it takes to make the process more enjoyable, and successful, is reading through these steps prior to you starting.
First, you will want to select a suitable location for your camper – away from excessive traffic but close enough that you can access activities and services easily.
Second, ensure you have all of the necessary items at hand, such as stabilizers and wheel chocks.
Third, lay out your camper's canvas according to instructions before extending the roof rafters and walls of your camper.
Fourth step requires you to secure stakes into the ground if present.
Finally, when everything is in place level your campers by adjusting the corner jacks – referring again back to stabilizers or wheel chocks if necessary.
Enjoying a memorable outdoor trip starts with following these easy steps!
What To Look For When Buying A New or Used Pop Up Camper
Before taking the plunge into pop up camper ownership, there is essential homework to be done.
Beyond merely assessing price tags, you should crunch all the numbers by carefully inspecting and evaluating each detail – from gas mileage to floor plan design – as failing to do so could lead costly consequences down the line.
Invest a bit of effort now for maximum rewards later!
How Many People Does The Pop Up Need To Sleep
How Much Storage Do You Need
Storage in a pop up camper is a premium when compared to other RVs.
You can often find a couple of cabinets worth of storage in the kitchen area, storage under the dining table benches, and some storage on the exterior of the camper.
The only real way to increase the storage in your pop up is to get a bigger pop up, have a storage rack mounted on the rear of the camper or get a rooftop storage bin to place on top of your vehicle.
How Much Weight Can You Tow?
If you have an SUV, odds are that you can tow just about any pop up camper. If you have a car or minivan and don't plan on getting an SUV or truck, you will have to check in your owners manual on what your towing capacity is for your vehicle.
Most pop up campers weight in at 1,000 – 3,000 pounds without any gear packed in them. You can plan on an additional 200-500 pounds of gear once you have put in your kitchen supplies, bikes, food, and other items.
To be on the safe side, take the weight of the camper and add 500 pounds to it to make sure your vehicle can safely tow the camper. Do not exceed your vehicles towing capabilities as this can make towing the trailer dangerous. Pop Up Camper Amenities: What Amenities Do You Want?
Do You Need AC and/or a Heater?
I tend to look at AC and heat in this way. I can always pack the right gear to stay warm, but gear won't help me cool down.
A heater can be nice to warm up a cold camper, but an appropriate sleeping bag or warm quilts can easily ensure a warm nights sleep.
You can also opt out of a heater in your pop up and use a portable camping heater instead to warm up your camper.
AC on the other hand, I absolutely love having. Our pop up didn't come with AC but with a little help from Grand dad we were able to install an AC unit on the roof. Check it out HERE.
It can be incredibly hard to try to sleep through a hot humid night for myself, but when my kids can't sleep and are grumpy, then my camping trips become quite unenjoyable!
Heaters and AC can be nice, but they do add a lot of cost to a pop up camper. You should also know that they are only useable in campsites that offer electricity, which many don't.
Kitchen Size
What size kitchen you need really depends on how much cooking you plan on doing inside the camper.
Personally, I do very little cooking inside the camper on our trips. I prefer to pack a grill, some pie irons, my dutch oven, and the rest of my outdoor kitchen and do most of my cooking outside.
I think this is common for most pop up campers as well. Cooking inside the camper isn't really convenient or necessary. So most prefer to opt for a small kitchen area just big enough for the basics like morning oatmeal and an evening snack.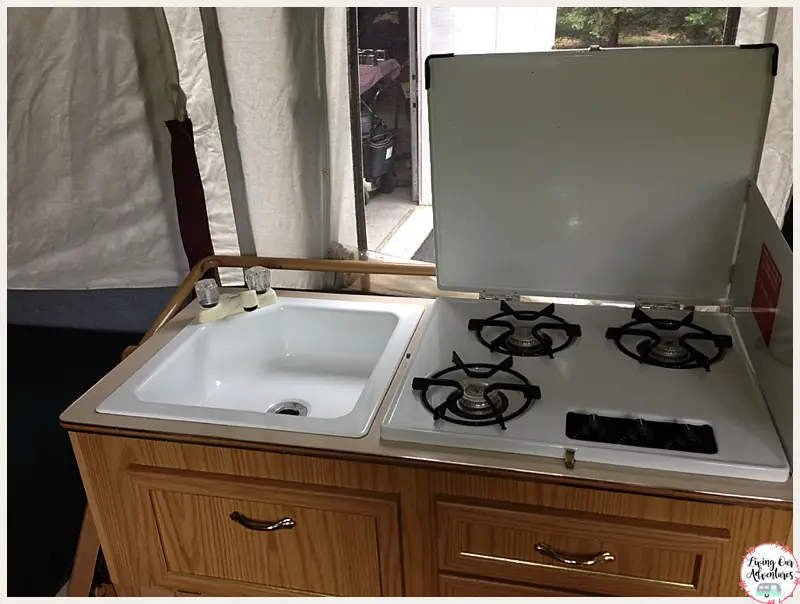 Should Your Pop Up Include A Bathroom
Having a bathroom in your pop up camper can seem like a great idea, and for some, it might be. For most though, the space is too small and a bathroom takes up too much valuable room that could be better used for other things.
If you choose to forgo a built-in bathroom, you still have many different options for quality bathrooms. Most state park and national park campgrounds actually have really nice bathrooms that are accessible from most of their campgrounds.
Hot Water & Showers
A shower can be a really nice extra to have in your pop up camper. Getting clean right before bed makes everyone just feel better as they lay down to go to sleep.
Again though, the main issue with having a shower in a pop up camper is space. Many pop ups do offer showers on the exterior of the camper though. While not as private as an interior shower, this can be a decent option for cleaning off the kids before entering the camper.
You can also set up a camp shower (even with heated water) that can be easily stored in the camper and set up once you reach your site. Inspecting A Used Pop Up Camper
Check The Tires For Cracks and Checking
While bad tires shouldn't deter you from purchasing a pop up trailer, it is good to know if you will soon have to invest in new tires.
Checking for proper tread is usually not enough with trailer tires. Tires on trailers usually go bad from cracks and checking well before their tread has worn away. This is due to the trailer not seeing many miles but the rubber on the tires getting old.
Check That The Wheel Bearings Have Been Repacked
You'll see this tip all over the internet, the problem is that nobody bothers to explain what this means or what you are actually looking for (because it is usually a regurgitated tip about trailers that even the authors don't know what to look for).
A wheel bearing allows a hub, tire, and wheel to work together without any friction. This allows your wheels to run smoothly down the road and keeps your trailer from shaking or locking up when braking.
The easiest way to check the bearings on a trailer is to take it for a test drive. Drive the trailer 5-10 miles on a highway, then park your vehicle somewhere safe and place your hand on the center of the wheel hub, it should not be too hot to keep your hand in place.
Other methods of checking wheel bearings are not practical for the average person. So hopefully, your seller has a maintenance record of when the bearingswere last repacked. Check The Axle and Frame For Bending
Trailer frames and axles mainly see bending damage from an excessively hard curb hit.
For a quick inspection, there are two basic ways to look for a bent axle. The first is to get under the trailer and actually look down the axle and look for an irregular bend. The second is to look for uneven tire wear on the outside edge of the tires.
Finding bends or cracks in the frame involves getting under the trailer and examining with your eyes. Rust is ok, cracks and bends are not.
A bent frame or axle should cause you to leave immediately, this is too expensive of a repair for most.
Check The Leaf Suspensions
Now you'll want to inspect the leaf suspension springs. You can see what these look like in the photo below.
You're going to be looking for cracks in the springs and where they connect to the trailer and axle. Don't worry about surface rust, this is completely common and does not mean the springs are compromised.
Any major cracks or rust that is eating through the metal should be addressed.
Check The Roof For Water Damage
Roof leaks are very common for all RVs, especially pop ups.Ideally, you should check the roof for damage from both the inside and out.
Start by inspecting the roof while the pop up is fully closed up and lowered. Look for any seams that aren't sealed, unlevel and showing any signs of damage.
Next get inside the camper and inspect the ceiling from inside. Look for any water spots on the ceiling or paint spots that could be covering up water damage (a common tactic to hide water damage). Then get your hand up on the ceiling and feel around for any abnormally soft spots.
A damaged roof is repairable but should be reflected in the price.
We fixed our ABS roof on our Coleman Bayside, check it out HERE! Make Sure The Lift System Works Properly
Since you need to lower the pop up and fully erect it in order to inspect the ceiling, this is the perfect time to inspect the lift system as well.
The lift system on a pop up camper is the mechanism that you crank to lift the roof of the camper up. A simple inspection is all that is required.
Make sure that the crank runs smoothly and the ceiling extends without any issues. Listen for a clicking noise to ensure the safety latch is catching. Also, make sure you see the roof go up and down for yourself before buying.
Check The Floor For Water Damage
When you're done checking the ceiling, you'll want to check the floors. If the ceiling was good, odds are the floor will be too, but there is no guarantee as water can come into a pop up from different locations.
Check The Canvas For Mold/Mildew/Rips/Bad Zippers
Next, you'll want to do a careful visual inspection of the canvas all the way around the pop up camper. You are simply looking for mold, mildew, tears and bad zippers.
Canvas repair can be a doable DIY project or can be professionally repaired, but either way, it will cost time or money and should be accounted for in the price.
Check out our DIY Canvas Replacement – HERE.
Check That All Electrical Systems Works
First, check all of the trailer lights when it is hooked up to your vehicle. Check the brake lights and blinkers all work.
Next, get into the camper and make sure that all interior lights and electrical systems work as they should.
Check That Plumbing Has No Leaks
Inspect the sink by running the water and making sure that the water lines are not leaking nor is the drain pipe. Next, check the toilet and shower for the same if the trailer has these items.
Also, have the owner show you the water storage tank and make sure that there is no damage around the storage tank.
Check The Sliding Bunks
Make sure that the bunks slide out smoothly and that there is no sag in the bunks when fully extended. Personally, I wouldn't check the mattresses because I would buy new mattresses no matter what (I don't like used mattresses), but if you plan on using the existing mattresses, make sure to look them over for mildew.
Check All Appliances
Finally, if the pop up camper has any appliances check to make sure that all are in good working order. Make sure the stove lights, the fridge gets cold, the AC works and the heater heats. What to pack for your trip - essentials list
No matter where you are traveling to, there are some essential items that you should never forget to pack. Think ahead: will you be doing any outdoor activities?
Make sure to include appropriate clothing and outdoor gear that matches the climate of your destination. Don't forget to pack sunscreen, a good pair of shoes, medications, and a raincoat just in case.
Additionally, it's always smart to bring along a few snacks and an empty water bottle – not only will this saves money but it will also keep you hydrated throughout your trip!
Be sure to make a list before packing for your next big adventure so that no essential item gets forgotten!
Ultimate Camping Packing List
Get your FREE Camping Packing List. You will have everything you need for a fun family camping trip!
Tips and tricks for making the most out of your camping trip in a pop up camper
Camping in a pop up camper is a great way to enjoy nature and the outdoors! To get the most out of your trip, here are a few tips and tricks.
Bring a number of waterproof bags that can easily be stowed away to protect clothes and electronics from any moisture or unexpected showers.
Additionally, remember to bring and store plenty of canned goods as they store more efficiently than fresh food.
Another important detail not to overlook is that many pop up campers do not contain built-in bathrooms so plan ahead with lots of porta potties!
And lastly, don't forget those cozy blankets for chilly night time adventures around the fire. With some planning and these helpful tips you will have an enjoyable camping experience in a pop up camper! Pop up campers are a great, affordable way to enjoy the outdoors and have become increasingly popular in recent years. If you're thinking about getting a pop up camper, or are new to using one, this guide provides all the information you need to get started – from what to pack to how to set up your camper. With these tips, you'll be sure to have a comfortable and enjoyable camping trip!
You May Enjoy These Related Articles
Did you enjoy this article? Want to hear more? Stay in touch! Sign up below to receive weekly tips and inspiration for your next camping trip.