Why Camp at Elk Neck State Park
Camping Season is fast approaching. Have you decided where your first trip will be? We have! It's our tradition to camp at Elk Neck State Park in early May, even if this trip isn't the first one on our list for the year we considering it our kick off our camping season.

Overview of Elk Neck State Park
The park has 2,370 acres of land and includes 250 campsites, 4 youth group sites and 19 cabins. The park includes marshlands, heavily wooded areas, white clay cliffs, and sandy shorelines. Elk Neck State Park is divided into four areas. Turkey Point Lighthouse, North East River Area and Picnic Shelters, Rogues Harbor Boat Launch Facility, and The Elk River Camping Area.

The Camping Area
The park has 250 campsites, 4 youth group sites, 7 four person camper cabins, 4 six person camper cabins, and 8 rustic cabins. The park store is staffed on weekends from Memorial Day to Labor Day. To make a reservation, call 1-888-432-2267 or visit parkreservations.maryland.gov.
Camping Loops
North East Camping Loop– 28 sites with electric (50, 30, and 20 amp), water, and sewer hookups, Pets on a leash are permitted
Chester Camping Loop- 22 sites with electric hook-ups (50, 30, and 20 amp), Pets are prohibited
Elk and Miles Camping Loops– 56 standard tent campsites, Pets on a leash are permitted
Wye, Choptank, and Susquehanna Camping Loops– 68 standard tent campsites, Pets on a leash are permitted
Bohemia Loop- 27 standard tent campsites, Pets are prohibited
Youth Group Camping- 4 group sites, Up to 50 people per site, Pets are prohibited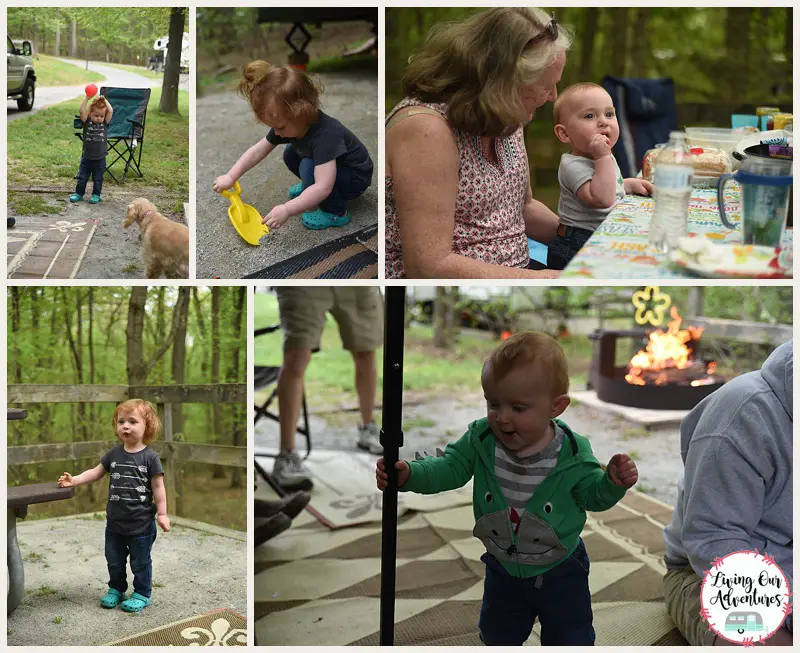 Things we Loved!!
Campground Layout
Most often campgrounds line up their sites one right after the other. Making the most of the space that they have. At Elk Neck the sites are tucked into little corners and not stacked on top of each other. This gives every site privacy and a sense that you are camping in the woods without someone right next to you.

Bathhouses
The bathhouses are located in the center of each loop. They are very clean with numerous stalls.

Fire Rings
The rangers at Elk Neck do an amazing job of cleaning out the fire ring after each stay. Not only do the entire rings lift up but they also have built in grilling grates. And you don't build your fire on the ground. The fire rings are on top of a firebrick surface that has been fastened into the ground.

Area Attractions
Boating
Elk Neck is located in Cecil County on a peninsula. With easy access to the Chesapeake Bay and the Elk River.  They have a boat launching ramp where you can launch boats, fish and carb from the fishing pier, and hike the Beaver Marsh Loop or White Banks Trail. Elk Neck is a popular state park for the Boy Scouts and Girls Scouts because of this.

Hiking
There is no shortage of hiking trails at Elk Neck. Most of them are through the woods and will take you all over the state park. As always check out the trail map before you go and always be safe.

Turkey Point Lighthouse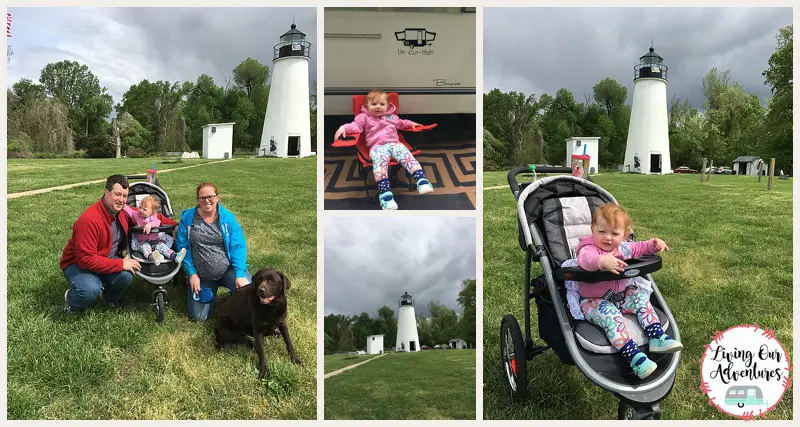 Our favorite hike was to Turkey Point Lighthouse.  And considering I was 8 months pregnant with twins it was fairly easy. For this hike we drove to the parking lot from our campsite and then walked to the lighthouse.

Plumpton Zoo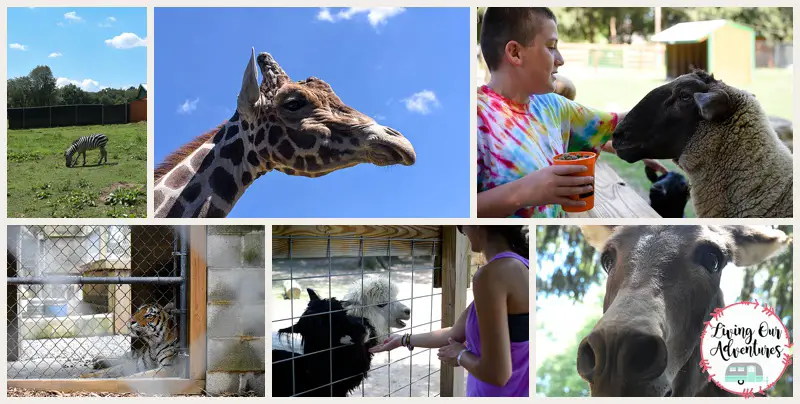 Plumpton Zoo has to be one of my favorites. It is about 30 minutes from Elk Neck State Park and is sure to be a hit with everyone in your family. At Plumpton Zoo you and your kiddos not only get to see a wide variety of animals but you can also feed many of them. The donkey and the giraffe were among our favorites.
So where are you camping this year? Make sure you add Elk Neck State Park to your list! And if you happen to be there the first weekend in May look for us and stop by.
If you are looking for other adventure/camping ideas please subscribe to my Monthly Newsletter.